European debut for Prinx Chengshan's Austone commercial tyre range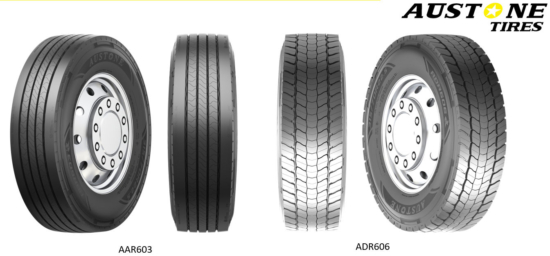 Prinx Chengshan Tire Europe is launching its commercial vehicle tyre programme throughout Europe at the NUFAM 2021 commercial vehicle show, which will take place in Karlsruhe, Germany between 29 September and 3 October. The company will present a range of tyres for trucks, buses and trailers that covers regional transport, long-haul transport and construction site applications under the Austone brand name, as well as Fortune van tyres.
"As an established and renowned trade fair in the German-speaking region, NUFAM 2021 offers an optimal event and ideal platform for the market launch of our truck, bus and trailer tyres," comments Thomas Wohlgemuth, managing director of Prinx Chengshan Tire Europe GmbH. "Here you can see, inspect and touch our tyres. Our customers, partners and interested parties can get individual advice and convince themselves about their requirements and expectations of our products. We are looking forward to a promising trade fair and direct feedback from the market."
Segment-specific products
The tyre maker says it specifically developed this range of truck, bus and trailer tyres for the "high demands of the European market." Peter Kraus, senior product manager at Prinx Chengshan Tire Europe GmbH, says the tyres have "excellent segment-specific product characteristics."
For regional and long-haul transport, this means high mileage, outstanding wet grip and thus in safety and reliability. For products used on construction sites, the company says it paid special attention to robustness and traction, in addition to the self-cleaning tread design, to provide users with the highest possible safety and mobility, even under the most difficult conditions of use.
Peter Kraus elaborates: "High-performance tyres designed for durability, safety and mobility lead to high mileage and better fuel economy. We help hauliers reduce their CO2 emissions and fuel consumption with tyres optimised for rolling resistance. We develop tyres that perform over the long term, so that they can be used until they reach the legal wear limit and then be retreaded: one of the main ways Prinx Chengshan ensures that fewer resources are used. A good decision to achieve sustainable mobility. From regional and long-haul transport to construction sites, we thus offer sustainable and high-performance tyres."
Made in Thailand
Prinx Chengshan produces its new commercial vehicle tyre range for Europe in its plant in Chonburi, Thailand, an ISO-certified facility that utilises industry 4.0 technologies to deliver a production capacity of up to 7 million truck, bus and trailer tyres per annum.