Banner: OE pedigree integral to aftermarket strategy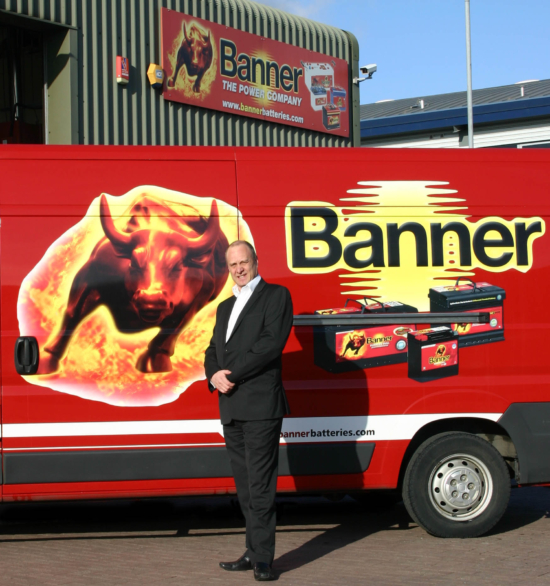 For battery brand Banner, highlight the quality and performance of products is key. And the fact that its products achieve original equipment (OE) standards is a central part of that. That's why, as one of the founding members of the Original Equipment Suppliers Aftermarket Association (OESAA) and with Lee Quinney sitting on the advisory board, Banner reports that it is "committed and unequivocal about the importance of OE within the automotive aftermarket".
When Lee Quinney joined the company as UK country manager almost seven years ago, one of his priorities was to showcase Banner's OE credentials in the aftermarket. Consequently, the Banner team delivered a number of different campaigns but glued by its OE history, as Quinney explained:
"An increasing number of technicians are now unaware that when they open a bonnet of a Golf or Mini, for example, they will find a Banner battery inside, hence the reason for bringing our OE pedigree to the fore and why it was one of my most important objectives."
OESAA a key part of Banner's strategy
The Original Equipment Suppliers Aftermarket Association (OESAA) platform has always proved a helpful tool. Autoinform Live, for example, has always been a highlight in Banner's calendar – but chairman Nigel Morgan is steering the brand's membership into a "new and exciting" chapter:
"We're on the right trajectory, thanks to Nigel's clear strategy of growing relationships with workshops across the country. The introduction of the garage forum has been an astute move, one that's essential for OESAA members, so we can truly understand the needs and wants of the workshop.
"We actively promote and conduct workouts and training events, but, thanks to regular meetings between OESAA members and the garage forum, we are able to learn so much more; forum members produce quick feedback on their likes and dislikes, what they're looking for from a supplier, what's catching their eye in the workshop, and we can incorporate those findings into our own strategy – keeping us on the right track to achieving one of our goals in showcasing Banner as an OEM."
Another one of Banner's quests is to ensure technicians, when speaking to their distributors, seek out a Banner battery. Lee Quinney acknowledges that price is likely to have a bearing on that decision, but, so long as the product is "priced competitively, there'll always be a place for an OE supplier" in the aftermarket, and this is driven through an assurance that product quality and technical performance is guaranteed.
He continued: "If BMW or Aston Martin, for example, choose a Banner battery, there are good reasons for that! It's about the quality and development that an OEM can bring to the table. For the medium and long-term, that's the message that we need to build on."
2020 a record year for Banner
Despite the pandemic, 2020 was Banner GB's best year ever. Therefore, the future is looking vibrant for the Austrian, family-owned business.
"We are constantly expanding our AGM and EFB battery programme and have recently introduced an AGM European first: a starter battery that is compatible across a raft of models, such as the BMW i8, Suzuki Swift/Splash, Vauxhall Adam, Hyundai Kona and Kia Stonic. We're using the same line for aftermarket as we do for OE – that'll never change," Quinney explained.
Autoinform Live just around the corner
After a two-year break due to the COVID-19 pandemic, Banner will join other OESAA members for the weekend of hands-on training. As a seasoned exhibitor, Quinney knows exactly what to expect from the two days:
"Battery technology has evolved so much over the last few years, specifically with AGM and EFBs, and I think it's developed at such a rate that technicians are still trying to get their heads around all the changes, whether that be uncertainty about which vehicles have a start/stop battery fitted, how the technology works or the benefits of each. It's for those reasons that we're excited to deliver a powerful and interactive training programme at Autoinform Live.
"It's always a fantastic event, and we're well-versed in knowing what the visitors want from the two days: clear and concise information, giving them bitesize pieces that will allow them to return to the workshop and apply their newly-acquired knowledge in the real world."