STS Tyre Pros wins Pirelli Performance Centre of the Year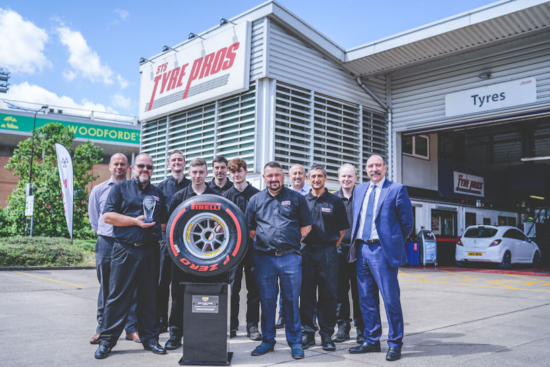 Norwich-based STS Tyre Pros Canary Way is Pirelli's Performance Centre of the Year. The tyre maker selected the centre from the 134 depots currently in the Pirelli Performance Centre (PPC) network.
Pirelli describes PPC as a network of carefully selected audited tyre dealers that focus on "providing the highest levels of technical proficiency and service to drivers." It adds that the network "prides itself on offering the latest cutting-edge technology and expertise in recommending, fitting, balancing high-performance tyres, all under one roof." Standards are maintained by a 130-point technical audit that depots must complete twice a year.
PPC of the Year is decided by subjecting the best-performing centres in the technical audit to a mystery shop exercise, scored by an independent assessor.
Remarkable achievement
STS Tyre Pros Canary Way has been a member of Pirelli's Performance Centre network since 2003 and achieved Platinum status in every single PPC audit since 2008. Pirelli praises its elevation to PPC of the Year a "remarkable achievement" and shares that the centre "has proven its ability to maintain a focus on customer service throughout the circumstances faced over the last 12 months." It adds that the Canary Way team "should also be very proud of its adaptation to the pandemic, introducing new processes and measures to ensure all customers could visit the centre with confidence."
The Canary Way centre is managed by Kevin Burt, who comments that "the last year has been very challenging for everyone so it's extra special for the team to have won this award." He continues: "Our ethos is to provide the highest possible standards of service every day and we judge ourselves on how satisfied our customers are. We are delighted to have achieved Pirelli's Performance Centre of the Year award as it reflects the reasons why many of our customers return to us year after year."
"Congratulations to everyone at STS Tyre Pros Norwich Canary Way," adds Dominic Sandivasci, Pirelli UK chairman and chief executive officer. "To win the Pirelli Performance Centre of the Year accolade alone is a fantastic achievement, but to have also achieved Platinum status for 13 years is incredible. It's a real testament to the fantastic work the whole team is doing."
Mark Slade, deputy chief executive officer of ETEL, parent company of STS Tyre Pros, states: "Everyone at STS Tyre Pros is very proud of the achievement of Kevin Burt and his team at Canary Way in maintaining their high standards over such a long period of time. I would also like to thank Pirelli UK for its continued investment in the Pirelli Performance Centre programme. Initiatives like this are vital in setting benchmarks and helping drive up standards throughout the industry, to the benefit of both retailers and motorists alike."