Laufenn tyre brand to sponsor UEFA Europa Conference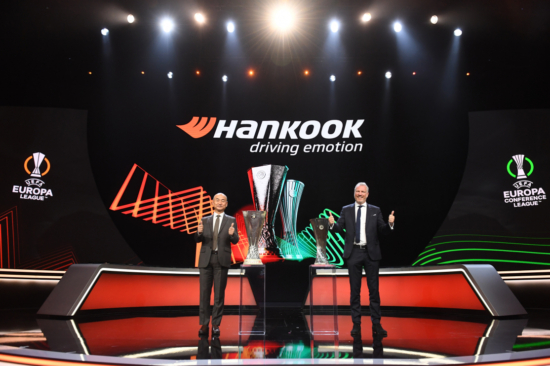 Hankook Tire has extended its commitment to the UEFA Europa League for a further three years. This third renewal of the tyre maker's sponsorship covers the period until the end of the 2023/24 season and additionally includes the new for 2021 UEFA Europa Conference League. It will sponsor this competition via its Laufenn tyre brand. Hankook and UEFA jointly announced the partnership's extension and Laufenn's Europa Conference engagement following the 2021/22 UEFA Europa League group stage draw.
Across both competitions, the renewed arrangement applies to 64 teams competing in a total of 282 matches each season. It continues a partnership that Hankook credits with significantly enhancing its flagship brand's global exposure. It has gained much of this exposure via LED perimeter advertising and static advertising boards at many stadiums across Europe, however, Hankook's partnership with UEFA has also utilised other sponsorship initiatives, such as the collaboration with David Garrett in 2020 that reinterpreted the official Europa League anthem. The result was the 'Symphony of Silence' music video, which expressed the feelings that empty stadiums evoked among football fans throughout the sporting world during the Covid-19 pandemic.
"Football is one of the most popular sports in the world and plays a central role in European countries," emphasises Sanghoon Lee, President of Hankook Tire Europe at the contract signing ceremony. "Both the sponsorship of the competitions and the partnership with UEFA are important elements of Hankook's sports marketing strategy in the region. In addition to our other activities, I am particularly pleased that from the new season onwards we will be able to offer children from all over Europe an unforgettable experience as Referee Mascots. Moreover, introducing our second brand, Laufenn to UEFA club competitions will increase, our relationship with UEFA to further enhance Hankook's brand awareness and acceptance in the European market through our sponsorship of both competitions."
A valued partner
The tyre maker will continue its 'Back Stadium Tour' initiative, which provides customers and fans with an exclusive behind the scenes stadium experience on matchdays. Hankook is also retaining its 'Man of the Match' presentations after both finals. It states that this sponsorship agreement will "continue to be an integral part" of Hankook's partnership with UEFA and will be further supplemented by new promotions.
"On the occasion of the group stage draw today, I am absolutely delighted to see our long-standing and forward-thinking partner continue to support the UEFA Europa League and extend its sponsorship to the UEFA Europa Conference League," said Guy-Laurent Epstein, marketing director of UEFA. "Hankook has been a valued partner of UEFA's since 2012, showcasing some of the best activations and sponsored content in support of the UEFA Europa League. We are looking forward to collaborating further with Hankook in order to develop new ideas for the upcoming UEFA Europa League and UEFA Europa Conference League seasons."
Multi-level approach
Hankook relies on a "multi-level" sponsorship concept and is thus active in local, regional and global engagements. In football, it has also been active globally as a sponsor of record Champions League winner Real Madrid C.F. since 2016 and, on local and national levels, it sponsors German football team Borussia Dortmund as well as the Czech national team.