Kumho customers hone football skills with Spurs legends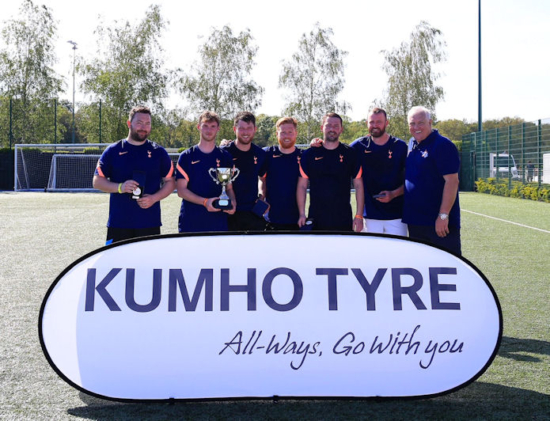 Kumho's recently renewed partnership with Tottenham Hotspur has many benefits – not least the annual five-a-side tournament that the Club lays on for customers. Although the 2020 event was postponed due to Covid-19, this year was a different story, and eight teams, each managed by a Spurs legend, battled it out at the club's Training Centre at Hotspur Way.
Participants travelled in from all corners of the country and were treated to a tour of the Tottenham Hotspur Stadium before going on the Dare Skywalk, traversing the glass walkway that surrounds the Club's iconic Cockerel statue 46.8 metres above the pitch. Returning to ground-level, the participants travelled to the Training Centre and began preparations for the game with their appointed manager. The line-up consisted of Micky Hazard, Graham Roberts, Martin Chivers, Pat Jennings, Paul Allen, Mark Falco, Gary Mabbutt and Steve Sedgley.
The teams were named after those competing in Euro 2020, with the addition of Northern Ireland in recognition of celebrated Irish goalkeeper Pat Jennings. The final was a fierce clash between Germany and Scotland, with the latter, managed by Graham Roberts, running out eventual winners.
"We are most grateful to Tottenham Hotspur for putting on such an enjoyable day for our customers," commented Kumho Tyre UK. "Having such footballing greats managing the teams was something that will be remembered by all of our customers in attendance. Unique experiences like this are just one of the many reasons we are delighted to have extended our partnership with the club."