Football: Nexen Tire becomes AC Milan's tyre partner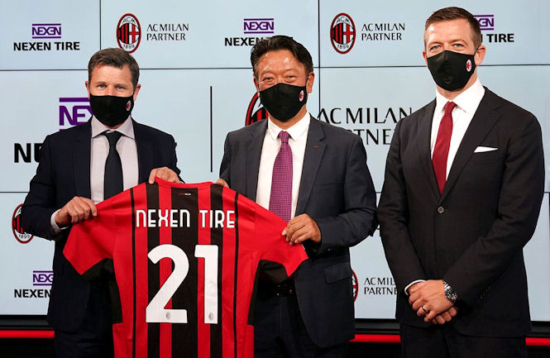 AC Milan and Nexen Tire have announced a new partnership that will see the South Korean brand become the football club's new tyre partner in the Italian market. The announcement follows a positive season for the 'Rossoneri', which saw AC Milan secure a second-place finish in the top-flight Serie A championship and qualify for the UEFA Champions League.
As part of the new arrangement, Nexen Tire will enhance its brand presence in Italy through enhanced visibility both at the San Siro Stadium and online, as well as via its association with the internationally known AC Milan brand. The tyre maker will also leverage its new relationship to offer existing customers exclusive product giveaways and Rossoneri experiences.
"We have teamed up with AC Milan, a fantastic club with excellent players, and look forward to a successful partnership and are excited for the upcoming football season," said John Bosco Kim, senior vice-president of Nexen Tire Europe. "With this new collaboration, Nexen Tire has brought forward innovative projects like incorporating our exclusive Nexen Point customer partnership program into the new marketing and communications packages developed in collaboration with AC Milan."
"We are pleased to welcome Nexen Tire to our family of partners," adds Casper Stylsvig, chief revenue officer at AC Milan. "With an authentic brand alignment, a common vision and a common mission, I am convinced that AC Milan and Nexen Tire will be able to bring this partnership to life always keeping in mind our shared values of passion, innovation and care."
Nexen Tire is not AC Milan's first tyre partner. Toyo Tires entered into a partnership with the football club in 2014 and served in this capacity for several seasons.