Coach tyre market debut for Apollo with EnduComfort CA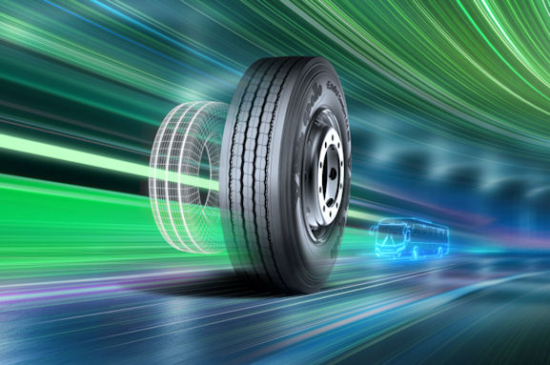 Apollo Tyres is launching its first coach tyre, the all-new EnduComfort CA. It says the tyre "delivers premium levels of mileage, durability and all-weather grip" as well as "superior standards of comfort for passengers and drivers." The Apollo EnduComfort CA is available in size 295/80 R22.5.
The tyre maker designed and developed the EnduComfort CA at its in-house R&D operation and is producing the tyre at its manufacturing plant in Hungary. During the development process, Apollo Tyres drew upon its capabilities and reach in the global haulage market. The company already has a presence across all European countries and more than 500 partners offering distribution and support requirements, and it will harness this infrastructure to support the rollout of the new coach tyre.
Developed for medium- and long-distance use, Apollo Tyres says the EnduComfort CA tyre features an "advanced" tread compound and a reinforced casing that together help to minimise abrasion, ensure cooler running and safeguard even patterns of wear. The result, it adds, is high levels of durability – 1.9 times greater than the EU minimum requirement – and mileage performance consistent with coach tyres from established premium-brand manufacturers. The EnduComfort CA is also certified for all-weather grip with the 3PMSF 'three-peak mountain snowflake' insignia.
Best value for money
Apollo Tyres states that it also took affordability across the full lifecycle into account during the development process. As well as "ensuring the EnduComfort CA is available at an accessible price point," Apollo has given the tyre a tension-optimised ply casing engineered to facilitate retreading. Apollo Tyres says the EnduComfort CA will thus represent the "best value for money in the European coach segment."
The EnduComfort CA's tread design features zigzag grooves to "deliver superior standards of grip" in wet and snowy conditions, while groove base protectors offer "enhanced protection" against stone penetration. The tread pattern and compound have also been developed to help minimise noise, aiding comfort for passengers.
Optimal performance/cost balance
"The coach tyre market is extremely competitive, and we are launching our debut product confident that it offers the durability, performance and comfort that the most demanding coach owners and fleet operators across Europe now expect," comments John Nikhil Joy, Apollo Tyres' cluster director Europe – truck and bus tyres. "The research and development team responsible for the EnduComfort CA have built on the success of Apollo Tyres products in the truck, passenger car and agricultural sectors, drawing on expertise in design and materials to deliver a product that offers an optimal balance of performance and low cost of ownership."