VW ID.4 to ride on Hankook tyres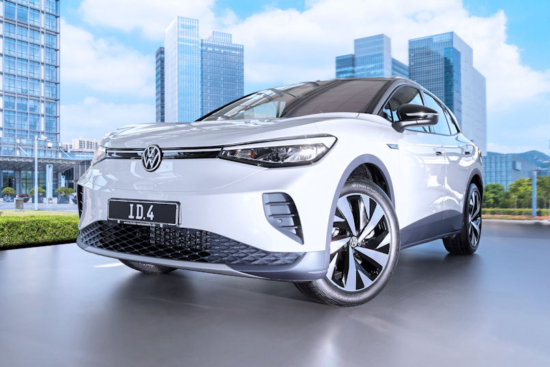 Hankook Tire confirms that its tyres will be original equipment on Volkswagen's first all-electric SUV, the ID.4. The tyre maker will supply its Hankook Ventus S1 evo 3 ev in numerous sizes from the vehicle's market launch. For North American deliveries, Hankook will supply its Kinergy AS X ev in two 19-inch dimensions. OEM fitment on the ID.4 follows the pairing of prototype Hankook Ventus S1 evo 3 ev tyres with the VW study ID. Crozz, the design of which the new ID.4 is based on.
Depending on vehicle equipment level, the ID.4 will receive the Hankook tyre in 18- to 21-inch rim diameters. Some of the original equipment tyres will feature Hankook Sealguard puncture protection technology. Hankook will also supply 20- and 21-inch tyres for the ID.4's twin-engine sibling, the Seal guard VW ID.4 GTX.
Optimised for EVs
As its name suggests, Hankook specifically developed the 'ev' version of the Ventus S1 evo 3 for electric cars. The tyre's reduced rolling resistance sustains vehicle range while the lightweight yet stable double-layer casing construction carries the vehicle weight of Volkswagen's new all-rounder and supports its dynamic qualities.
Characteristics of particular importance for electric vehicle tyres include reduced rolling resistance, lower weight and higher load-bearing capacity – traits needed to optimise range while addressing higher vehicle weight. To meet these requirements, Hankook engineers equipped the EV tyre Ventus S1 evo 3 ev with the aforementioned double-layer casing made of a specially-developed high-performance fibre. The tyre maker says this "offers very high stability with a low tare weight relative to its size."
Tread compound is another important factor. Hankook says it adapted the Ventus S1 evo 3 ev compound to provide excellent grip in wet and dry conditions while accommodating the high drive torque typical of electric vehicles. It worked to optimise rolling resistance at the same time. An additional steel-based reinforcement in the bead area is present in 20-inch versions of the tyre; this is needed to further increase stiffness in these narrower sidewall dimensions. Hankook points out that in addition to guaranteeing that the tyre fits precisely on the rim, this also ensures particularly sporty, direct steering response.
Hankook Sealguard is present in some of the 19-, 20- and 21-inch dimensions. This solution automatically seals tread area punctures up to 5mm in diameter. As the VW ID.4 doesn't carry a spare tyre, Sealguard offers the added advantage of continued mobility in the event of a nail puncture or similar occurrence. Hankook stresses that the basic construction of tyres featuring Sealguard doesn't differ from those without it, and therefore tyres "continue to offer the usual comfort."
A contribution to sustainable mobility
"The prototypes of various electric vehicles from VW were already running on Hankook tyres. We are pleased to be able to further expand and support the portfolio of alternative drive systems with the ID.4 tyres together with our long-standing global original equipment partner Volkswagen," says Sanghoon Lee, president of Hankook Tire Europe. "With this, we want to make an additional, important contribution to sustainable mobility."
Bridgestone announced earlier this year that Volkswagen is also fitting its tyres on the ID.4 as original equipment.