Tyre businesses need to take responsibility for managing Covid risks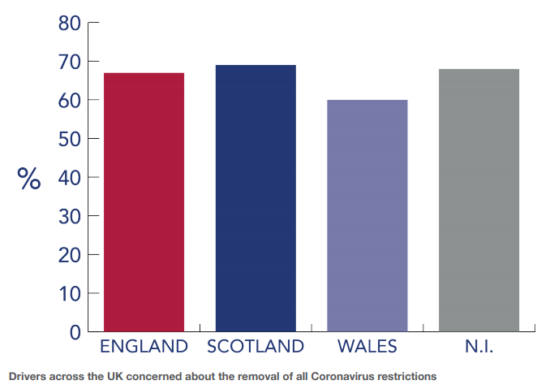 The media might have picked up on the rhetoric of "freedom day", but the NTDA's recent "Keeping Tyre Centres Safe" report highlights the fact that businesses will still be required to take responsibility for managing health and safety risks: "All employers will continue to have a legal responsibility to protect workers and others from a risk to their health and safety and have a legal duty to consult workers on health and safety matters." Here, Tyrepress.com takes a close look at the responsibility and choices facing tyre retailers.
Describing Covid-19 as "a workplace hazard", the NTDA report added that businesses "therefore will continue to need an appropriate risk assessment. Any business that fails to carry out a suitable risk assessment and put in place control measures to manage the risk may
be considered to have breached health and safety law."
Once an assessment of the risks of Covid-19 has taken place, "you must then identify measures to control or remove that risk." Government risk-assessment tools and advice such as https://www.hse.gov.uk/simple-health-safety/risk/ and https://www.gov.uk/guidance/working-safely-during-coronavirus-covid-19/shops-and-branches are recommended to help with this. In any case, government guidance continues to emphasise the importance of cleaning more often and providing the best possible ventilation as well as maximising the use of outdoor settings. Similarly, while not a legal requirement, displaying "track and trace" information continues to be recommended.
Beyond this, there is growing evidence that many businesses will maintain Covid-security practices beyond the ending of legal restrictions. For example, as of 15 July 2021, it is clear that many large retailers will continue to require customers to wear masks in the interests of both staff and customers alike. Specifically, Tesco, Sainsbury's and Waterstones as well as Asda, John Lewis, Waitrose, Aldi and Lidl will all ask shoppers to mask up.
Covid restrictions across the UK
While Boris Johnson has led the handover of Covid security responsibility from government to businesses and citizens, the details actually vary slightly across the devolved administrations of Scotland, Wales and Northern Ireland (not to mention mayoral administrations such as London and Manchester).
For example, First Minister Nicola Sturgeon has announced that Scotland will move to Level zero of Covid-19 restrictions effective 19 July. However, she has maintained that face coverings will remain in place for "some time" and physical distancing of one metre will be required (a similar policy is being adopted on public transport in London and Manchester).
At the same time, in Scotland, workers are being encouraged to continue to work from home where possible and guidance on ventilation and hand hygiene will also stay. But all final legal restrictions have been scheduled to be lifted by 9 August.
According to the NTDA's report, guidance is slightly different in Wales with the Welsh Government saying Covid-19 restrictions will not be abandoned "wholesale" and face masks will remain mandatory in certain settings including taxis, trains and buses, as well as health and social care settings.
Meanwhile, the Northern Ireland Executive slated the indicative date of 26 July for the relaxation of Covid-19 restrictions.