SD International offers 'extensive' van range in Pace, Toledo brands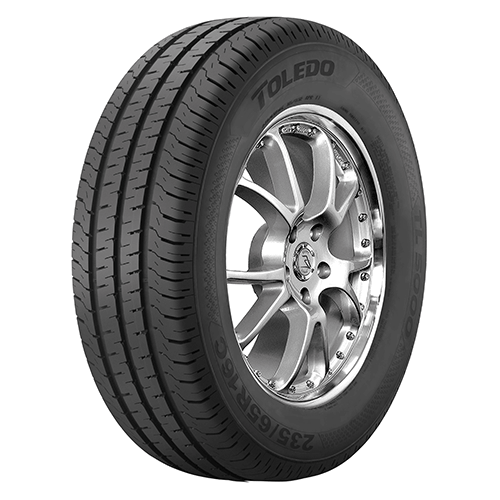 SD International now offers four van and light commercial tyre patterns for the UK and European tyre market via its Pace and Toledo private brands. Three van patterns are available from the Pace brand – the PC18, Active Power 4S and Antartica 8 – representing the summer, all-season and winter segments respectively; the TL 5000 covers light commercial applications for the Toledo brand.
The Pace PC18 tyre has 'twists and turn' grooves to promote grip on all types of road surfaces, including stony, muddy and off-road conditions. Channels on the tread provide faster water drainage from the contact patch. The tread compound is designed to reduce fuel consumption and increase mileage performance. The PC18 is currently available in 13 sizes from 185/75R16C through to 235/65R16C in R, S and T ratings.
The Pace Active Power 4S is an all-season tyre incorporating a balanced non-directional pattern. Its sipes are optimised to increase traction and hydroplaning protection in the wet and control on snow-filled road surfaces. Large shoulder blocks add strength and stiffness to enhance the tyre's handling capabilities and braking on all types of road and weather conditions. The tyre's silica compound improves tyre wear and reduces rolling resistance. The Active Power 4S is currently available in six size options from 195/70R15 up to 235/65R16 in R, S and T ratings.
The Pace Antartica 8 winter van tyre has three wide longitudinal grooves to improve overall drive handling, hydroplaning resistance and water drainage. The blocks on both sides of the shoulder work together to remove snow, slush and water from the tread, maintaining contact with the road. The Antartica 8 is currently available in seven sizes from 195/70R15 to 235/65R16 in S and T ratings.
The Toledo TL5000 van pattern incorporates a compact shoulder design for improved stability and optimised sipes in the middle of the tread to increase grip and braking performance. The tread compound reduces fuel consumption and increases mileage return, SD International states. The TL5000 is currently available in a choice of 24 sizes from 155/65R13 to 235/65R16 in R, S, T and Q ratings.
Frank Xu, SD-International's purchasing director says: "With an extensive range of tyres for most market sectors we are able to confidently supply the UK and Europe with a flexible choice in quality van and light commercial tyres at a competitive price."