Robson named Renewables division MD at Carlton Forest Group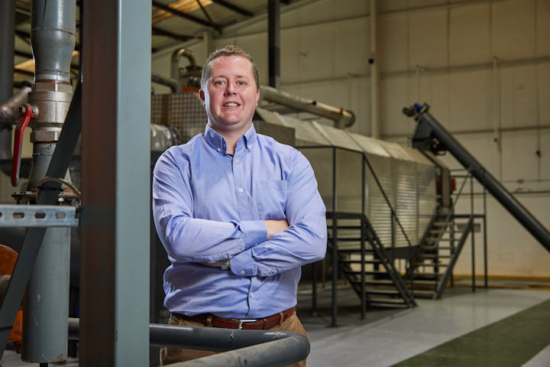 Carlton Forest Group has appointed Scott Robson managing director of its Renewables division. Robson has served as the group's financial director since the second half of 2020, and in his new role, he will now guide the firm's pyrolysis plant through final installation and commissioning ahead of its completion in the late summer.
The company anticipates that the facility, the UK's only continuous pyrolysis plant, will be fully operational by early October and capable of processing one tonne of end-of-life tyres each hour. The process will produce a high-grade pyrolysis oil and a char, both of which are then sold on to refineries and other industries meaning the process delivers zero waste.
Looking forward to a strong future
Scott Robson qualified as an accountant after graduating from the University of Hull. His career has taken him across the globe, in a diverse range of multi-million-pound businesses, where he has driven profitability, business performance and growth.
"This is another chapter in my career, and in the business, and over the coming months we will achieve our goals and see the plant become fully operational," says Robson. "Challenges presented by the pandemic have delivered inevitable delays, but now we are looking forward to a strong future as we showcase the only truly circular way to dispose of end-of-life tyres in the UK, and champion the sustainability benefits that our solution brings."
Mark Pepper, Carlton Forest Group, chief executive officer, comments: "Scott's career history means he is well placed to run this division of the group and I am sure he will achieve great things. He has already proved his capabilities and impressive business acumen, and I know that he will be a well-respected and successful managing director of our Renewables division."
"End of life tyres remain the UK's biggest waste problem and it was critically important that a solution that was sustainable, circular and brought added value was found. Our technology is set to revolutionise the way in which the UK deals with this particular waste stream and make a measurable difference in so many ways," Robson concludes.