London-based dealer amongst Q2 2021 TruckForce awardees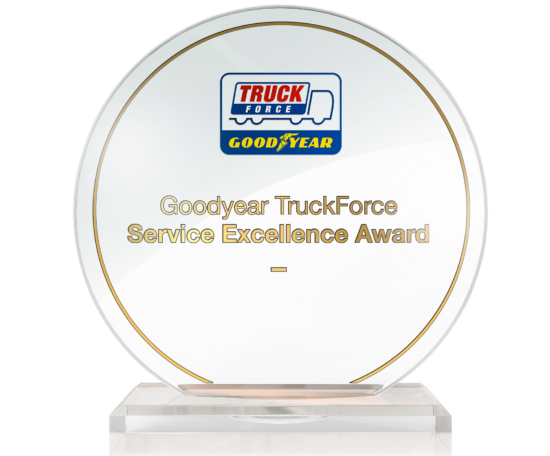 Goodyear has announced the next five TruckForce Excellence Award titleholders. Winners of the 2021 Second Quarter Goodyear TruckForce Service Excellence Awards include service partners in the United Kingdom, Poland, France, Hungary and Spain.
First, Goodyear has honoured London-based tyre-fitting service Barking Tyre Specialist for strong customer collaboration in implementing the Goodyear Total Mobility package and the online eJob process with new customers. The team has also displayed flexibility in delivering a high level of roadside assistance during an incredibly busy period, providing customers with consistent top-quality service. Similarly, Goodyear has recognised Polish service provider Wulgumex for its close collaboration with the Goodyear fleet team, attracting new fleet customers in the quarter. They've also demonstrated strong reliability with their ServiceLine24h coverage.
Second, Goodyear has acknowledged two partners in the international Vulco network for outstanding service. The French Vulco Dome opened a strategically important branch, improving TruckForce's coverage in central France, reducing service times for customers in the Clermont-Ferrand area. The franchise has also taken leadership on French eJob usage as well as scoring a close-to-perfect score during the TruckForce quality audit in 2020. Spanish partner, Navaliegos Motor, came out also very high in the audit, while extending its operations through adopting the Goodyear Proactive Solutions retail model and delivering its first Goodyear TPMS (Tire Pressure Monitoring System) contract to a local fleet.
Finally, the tyre maker has selected Hungarian Premio partner Kiss Gumi as the fifth award winner. Being one of the leading eJob users in Eastern Europe, they provide high-quality service coverage that strengthens Goodyear's impressive fleet support package to international customers.
Outstanding contribution to expanding Goodyear network
"The TruckForce Excellence Awards allow us to recognise and reward members of our high-performing network," comments Adam Stanton, European network & service manager for Goodyear Commercial. "It's inspiring to see how our partners go above and beyond in providing innovative solutions and, as a result, win new fleets. The second quarter winners have been selected with the emphasis on ensuring smooth operations through business innovation – the titleholders have displayed an outstanding contribution to expanding the Goodyear network and giving businesses a strong reason to choose Goodyear Total Mobility, the one-stop tyre and fleet management solution."
Goodyear launched the awards programme in the first quarter of this year to "recognise exceptional service across the pan-European TruckForce network. Commenting about both the first and second batches of awardees, Goodyear says the winners have "all displayed an outstanding approach in driving high performance, such as adopting new technologies, implementing development and training, showing leadership initiative and making new operational achievements with sustainability in mind."