Exports drive Rosava's rising sales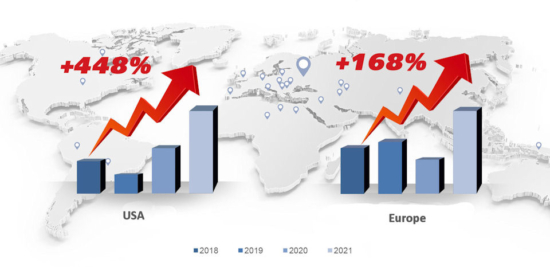 A focus on export markets seems to be delivering results for Ukrainian tyre maker Rosava. The company is developing a "niche strategy focused on the European and US markets," and reports that exports have grown to 61 per cent of total sales in the first half of 2021, up from 45 per cent in the first half of 2018. "This is possible due to the continuous upgrading, expansion of the tyre range and improvement of rubber compounding based on international standards," shares the tyre maker.
Sales in Europe were up 168 per cent year-on-year in Q1 2021, and 2.7 times higher than in the first half of 2018. US market sales were up 44.8 per cent year-on-year and 5.5 times higher than in the first half of 2018.
Overall sales were up in Q1 2021 too, 39 per cent higher than in the same period of last year. Sales of tyres for light trucks and agricultural equipment increased by 60 per cent and 36 per cent respectively. Rosava describes itself as a "confident domestic leader" in Ukraine.
The most demanded products within the Premiorri and Rosava brand ranges were the Premiorri Solazo S Plus, where sales of 279 000 tyres in Q1 2021 represent 80 per cent year-on-year growth; Premiorri Solazo, with sales of 458 000 tyres representing a 17 per cent increase; Rosava Itegro, up 36 per cent to 250 000 tyres.