Camfin increases its stake in Pirelli to 14.1%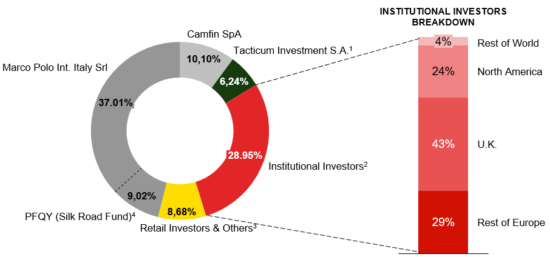 Camfin S.p.A. (Camfin) and Longmarch Holding S.à.r.l. (Longmarch), an investment vehicle owned by the Chinese Niu family which owns Chinese tyremaker Hixih, have entered into an agreement concerning the acquisition of shares in Camfin shareholding by Longmarch. The agreement represents the fulfilment of an April 2020 accord between Camfin and Longmarch, which included a call option for 4.89 per cent of Pirelli and means Camfin now owns 14.1 per cent of Pirelli.
Longmarch Holding Sarl was established in Luxembourg on 28 February 2020 and is owned by Hixih International Trade (HongKong) Company Limited, which is headed by Teng Niu and acts as the investment arm of Hixih Rubber Industry Group. Teng Niu is also the chairperson of Hixih's tyre factories including Tongli Tire.
As a result of the latest Camfin deal, Longmarch will "repurchase a total number of shares equal to approximately 7.68 per cent of Pirelli & C. S.p.A." After that, and "by the first half of October", Longmarch will pass on shares corresponding to 4 per cent of Pirelli to Camfin, while continuing to hold an interest equal to 3.68 per cent of Pirelli shares.
After the completion of Longmarch's entry into Camfin's share capital, Camfin will not only hold up to approximately 14.1 per cent of Pirelli's share capital, but also a potential investment equal to 4.6 per cent held through "call spread" financial instruments.
The agreement means Camfin will initiate a reserved capital increase. Following that, Longmarch will hold a 34.9 per cent stake in the economic rights of Camfin.
Writing in a statement dated 30 June 2021, Camfin points out that the shareholders' agreements "do not regulate or influence in any way the governance of Pirelli and do not produce any effect, impact or influence on the management of the investment currently held by Camfin in Pirelli, as well as on the exercise of the voting rights in Pirelli due to Camfin as shareholder of Pirelli."
Longmarch also remains a partner of Camfin Alternative Assets S.p.A., established in May 2020 with the aim of exploring "opportunities in private equity".
While the ownership of both Pirelli and Camfin remains incredibly complex, as we reported last year, the move can be interpreted as Pirelli and Hixih moving closer together.