Apollo Tyres updates regional truck range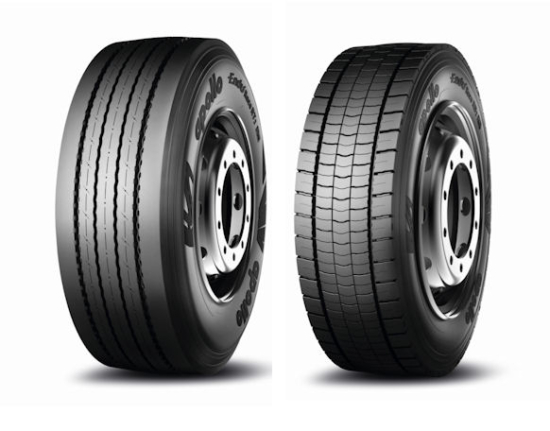 Apollo Tyres Europe has launched an all-new truck trailer tyre, the new EnduRace RT2. This second-generation range builds on the success of the EnduRace RT predecessor, and Apollo says it "provides excellent all-weather performance, reduced rolling resistance, and enhanced mileage and durability," representing a "premium yet affordable solution for truck operators." The tyre maker has also introduced a new generation regional drive axle fitment.
Apollo designed the EnduRace RT2 for regional applications such as medium- and long-distance transport and produces the tyre in Europe. Although optimised to deliver outstanding grip in wet and winter conditions, Apollo Tyres reports that it "performs well across all seasons" and is certified for snow grip with the 3PMSF mark. According to the manufacturer, overall grip is 15 per cent better compared with the previous generation.
An improved tread compound that minimises abrasion and heat build-up contributes towards enhanced durability and reduced rolling resistance. The tyre's "durable and optimised ply casing" also improves its retreadability.
A wider contact area results in more even wear across the tread pattern, adds Apollo. The reinforced casing also contributes to improved durability – which is reportedly 1.7 times greater than the European regulatory requirement – as well as enhanced tear resistance.
"This is an extremely competitive segment in the European truck tyre market, and we have committed significant resources and expertise in research and development to ensure the new EnduRace RT2 meets the needs of the most demanding user," comments John Nikhil Joy, cluster director Europe – Truck & Bus tyres at Apollo Tyres.
EnduRace RD2 drive axle tyre
A further new addition to the Apollo truck tyre range is the new Apollo 315/80 R22.5 EnduRace RD2. This regional drive tyre features a new groove tread pattern incorporating 'HGTech' Hidden Groove Technology with Multi-Edge shoulder blocks; Apollo Tyres says this allows for superior snow grip and optimised performance on slippery surfaces. The manufacturer adds that the 3PMSF-marked EnduRace RD2's snow grip is 1.4 times greater the European regulatory standard requirement.
"We know how big an impact tyres can have in fleet operating costs," says Nikhil Joy. "While we have made significant improvements to grip and traction in all conditions with the EnduRace RD2 tyre, we have also focused on durability and rolling resistance – and, of course, we understand the importance of affordability. The EnduRace RT 2 and RD2 offer tier-one performance and class-best value for money in Europe."