Three-quarters of a century and still going strong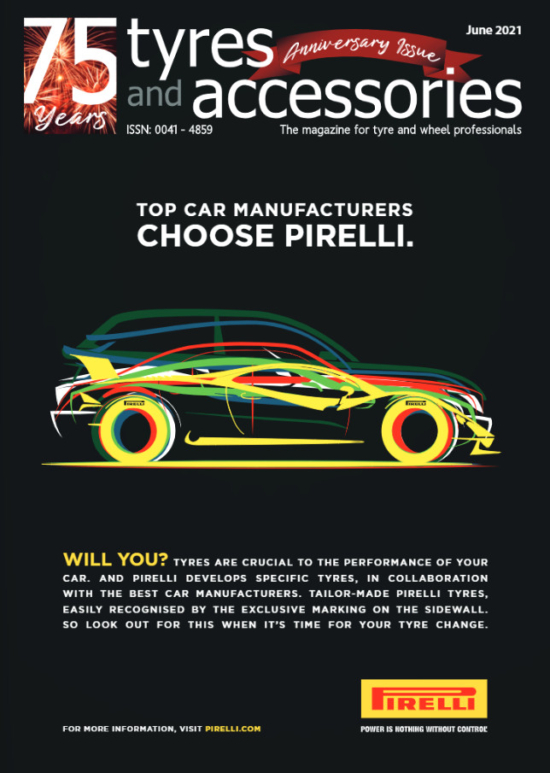 This month we celebrate the 75th anniversary of the publication of the first edition of Tyres & Accessories back in June 1946. Looking back to those immediate post-war years, comparisons can be made with the emergence from lockdown 75 years later. In the post-war period, the then still pioneering automotive business played a key role in the recovery process along with the intrinsically connected tyre trade. This time round, if the adaptability and resilience of the tyre business during the last 18 months of Covid-19-related disruption is anything to go by, things will follow a similar pattern. In both cases such events evoke genuine gratitude for the contacts, customers and friends we all have in the business. So, it is in that spirit that we begin the 75th anniversary celebrations that will continue throughout the month of June here at the front of the magazine and in a special 20-page section that begins on page 32.
The celebrations and commemorations start with the news that our owner and publisher Klaus Haddenbrock has chosen this auspicious occasion to announce his retirement. Read pages 32 and 33 for further details of how we are continuing to develop our position within the tyre publishing specialism – something that is a hallmark of what might be called the Haddenbrock era. And therefore, we must also begin our thanks with him.
Throughout this commemorative issue, you will see adverts marking the occasion and testifying to the associated customers' history in the business. Schrader, who are advertising on page 48, were amongst the customers that invested in the very first issue seven-and-a-half decades ago. Such history is also a reminder of the symbiotic relationship between a trade journal, its advertising customers and its readers. So, as we look forward to our continuing future working with the tyre business, our thanks go to the businesses that saw the value of investing in our initial print and subsequent online publishing platforms.
Growing subscriptions and record online traffic
Moving forward, we must acknowledge that – in addition to the ongoing trend towards virtualisation – the pandemic has accelerated the influence of the many forms of virtual publishing that are now available. Tyres & Accessories has provided an online news and information service since before the turn of the millennium, but now, three major upgrades later, this part of the business is as important and complementary as ever. Traffic-wise our business-to-business focused pages are protected by a paywall system to ensure that the right readers are engaging with the right content, without garnering figures that are swollen by irrelevant traffic. Nevertheless, Tyrepress.com has still been able to achieve monthly totals of up to 170,000 pageviews and became a go-to industry news source when the pandemic hit. Our e-Newsletter, to which almost 14,000 industry figures personally subscribe, has grown in parallel with Tyrepress.com and works in unison with the website, with the added bonus that it takes the latest news direct to readers. Meanwhile, we have also developed industry-leading social networks across the LinkedIn, Twitter and Facebook platforms.
WhatTyre.com sees Tyre Industry Publications Ltd press into new waters, re-deploying our tyre expertise in a consumer-facing news and information service designed help raise the level of conversation about tyres. WhatTyre.com is already proving to be an influential source of information in the increasingly popular pre-sale research space, something that had previously been dominated by price-driven alternatives. With this in mind, we are pleased to announce that, following the success of our inaugural WhatTyre awards in May, the tyre news and product performance comparison approach that is unique to WhatTyre is proving to be increasingly popular with consumers. Indeed, WhatTyre recorded over 149,000 pageviews during May after rapid and consistent growth throughout the first four months of 2021 (see page 43 for complete details).
All of this has led to growing subscriptions figures and record company-wide online traffic, something that leads us to our final vote of thanks to you our subscribers and readers. You kept Britain, Europe – and indeed the world – moving during the strangest 18 months any of us can remember. As we continue to move forward, we know our role is to provide the latest news and information you need to do what you do best. Email theeditor@tyrepress.com to share any feedback about how we can do this for the next 75 years.