The most forgiving colour: Why Camso non-marking tyres are grey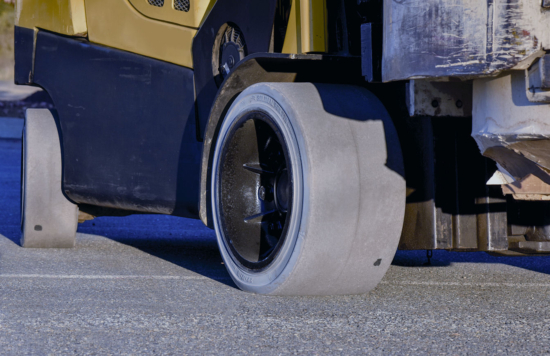 Camso aims to bust a myth or two surrounding non-marking forklift tyres. Non-marking tyres are available for a variety of applications and in a range of colours, from white to green and even yellow – but all Camso non-marking tyres are grey. The off-highway tyre specialist, part of the Michelin Group since 2018, explains why.
Although a grey tyre may appear grubby when viewed alongside a spotless white one, Camso stresses that "white doesn't mean better or cleaner when it comes to non-marking tyres." It emphasises that grey tyres are used in applications where hygiene is paramount, such as those fitted to wheelchairs and hospital beds, and thus calls the material industry out for "giving grey a cold shoulder." Camso says this negative view of grey non-marking tyres is "all linked to history and misinformation." Indeed, in the beginning Camso itself also opted to produce white non-marking tyres.
But it could only take the development of these products so far: "In 2006, we reached the performance limits of our white tyres, which were failing to offer maximum lifespan and to withstand heat build-up. Our engineers took this matter seriously as we're always seeking to provide the lowest operating cost solutions that meet the highest industry standards."
Camso's engineers developed new non-marking tyres. These were made from 100 per cent natural rubber, but they added 0.1 per cent carbon black to the rubber compound to stabilise the colour – this gave the tyres a grey appearance.
What can users expect from Camso non-marking tyres?
Well, not a milky white finish – obviously. But the manufacturer claims that users can expect five key advantages when using Camso non-marking tyres:
No compromise on life: Camso says the natural rubber it uses in non-marking tyres "ensures enhanced technical performance, improved thermal capabilities to eliminate heat build-up, and lower rolling resistance to increase fuel-efficiency and battery life." A natural rubber compound also reduces chunking and cutting and offers extra age resistance due to presence of natural antioxidants.
Clean running: The tread area of white tyres immediately becomes dirty from dust on the floor or when manipulated, thus marking floors with the collected dirt. "Our tyres are also less sensitive to stains," says Camso. "Essentially the same colour as dust, grey is the most forgiving colour of all."
Cosmetic stability: White tyres don't withstand heat build-up very well, and internal heat build-up makes their sidewall turn yellow or brownish over time. White is also more sensitive to discolouring than grey. Furthermore, grey non-marking tyres are less sensitive to contaminations during the manufacturing process and when in use, all while offering better UV resistance to reduce yellowing.
Lowest operation cost solution: Aside from having an impact on how the tyre looks, the white colouring process brings an extra cost factor into the equation without delivering any technical performance or superior non-marking benefits. Indeed, Camso states that a higher and more expensive grade of natural rubber would be required in order to produce a white natural rubber non-marking tyre that offers the same performance and benefits as a grey one.
Industry benchmark: Camso points out that industries with the highest requirements of hygiene and cleanliness all rely on non-marking tyres, and in most of the applications the tyres of choice are grey. "They are the most suitable tyres for indoor operations, ideal for electrically powered equipment, and preferred in rental applications because of their versatility and compliance with industry requirements."
Camso concludes: "No matter what the industry, from food and beverage, to pulp and paper as well as pharmaceutical, our non-marking tyres ensure a clean working environment, without sacrificing performance."