Mitas HC 3000 R for self-propelled slurry tankers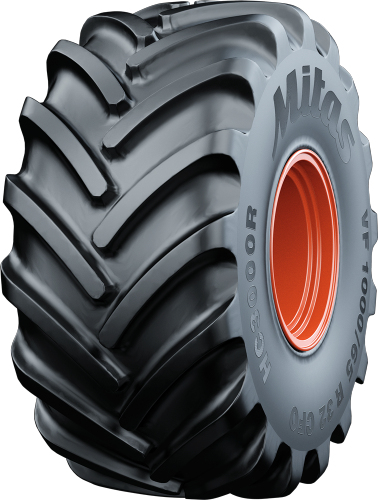 Trelleborg Group has made a new addition to the Mitas HC (High Capacity) radial tyre portfolio with the introduction of the HC 3000 R. Boasting the largest-ever tyre in the Mitas HC range – the VF 1000/65R32 CFO – the HC 3000 R tyre features Very High Flexion technology and rounded shoulder sections, denoted by the 'R' in its name.
Unlike other tyres in the Mitas HC range that are primarily used on combine harvesters, the new HC 3000 R tyre is designed for self-propelled slurry tankers. "We developed this new tyre in response to market demand for a high load capacity tyre for slurry tankers, equipping it with a new and highly soil-friendly tread pattern," comments Pavel Kott, product manager for Mitas agricultural tyres.
High load capacity and gentle ground handling, especially when turning in fields or on grassland, are the main advantages of the HC 3000 R, which features a new rounded shoulder design and flexible sidewalls reinforced with VF construction.
The VF casing structure gives the tyre up to 40 per cent higher load capacity than standard tyres, no matter the speed, making the HC 3000 R well suited for cyclic field operations in which the load on the machine frequently changes.
As the tyre can be used at lower inflation pressure, the HC 3000 R also has excellent traction and reduced slippage, which results in better fuel economy and productivity. "These features provide great benefits from the economic perspective and in terms of reducing environmental impact," adds Kott.