Maha UK recruit adapts sales technique in pandemic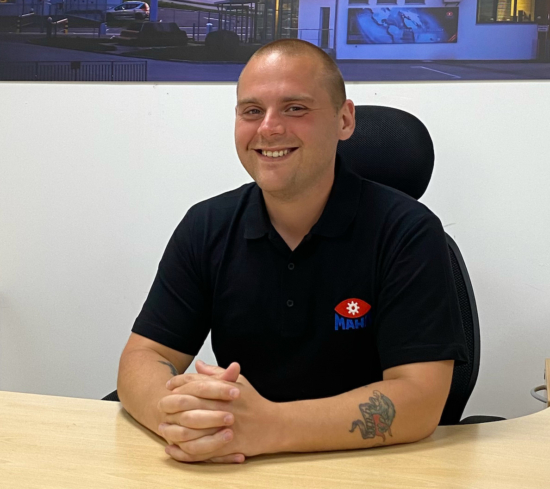 Maha UK's Luke Fuller joined the company during 2020, right in the midst of the pandemic, but he didn't let the 'stay at home' rule affect his confidence or ability to build a rapport with customers. Now back out on the road, he's keen to make up for lost time.
As a garage equipment salesperson, clocking up the miles and being able to meet customers in the comfort of their own workshop is an integral part of the process. One could be forgiven for thinking that a new sales executive, in a new company, would be thrown by being grounded – Fuller didn't see it that way, as he explained:
"As I was new to the business, within a new sales area, my day and sales technique revolved around calling companies and introducing myself. I managed to quote several clients this way, which led to some sales, and even though I felt this wasn't as efficient as knocking on doors and meeting face-to-face, it got my name out there."
That's not to say it didn't have its challenges along the way, but one social media platform proved invaluable in reaching the decision-maker or workshop manager: "I did a lot of canvassing on LinkedIn; I made connections with relevant decision-makers, which brought me many leads with a positive number of sales. I found this approach much more effective, as I had a direct route to the right people to have a conversation with, and they could reply at a time convenient to them."
Experienced in passenger car sales and workshops
Completing an apprenticeship in passenger car and van sales, Fuller progressed to business and sales manager roles in a dealership in Cambridgeshire, before moving up to the north-east, where he resumed his sales position before excelling and then promoted to a general manager post.
However, upon moving back to Cambridge, Luke admitted he was ready for a fresh challenge: "I oversaw both sales and workshop teams, but it was the workshop side of the business that perked my interest, so when I moved back down south and became aware of the job opening at Maha, I was eager to grab the opportunity. I was ready for a fresh challenge; I wanted a single focus and freedom to allow me to show my skills but have the trust in allowing me to plan my time accordingly – Maha UK offers that in abundance….
"….Visiting customers, seeing the equipment installed and asking for feedback, I'm yet to hear a bad word about the quality of the product; in fact, I've actually experienced a couple of scenarios where equipment has been installed, then that same customer will call me up and ask if we can supply and install equipment to replace their existing set-up – that's the level of respect Maha UK has in this industry."