Kumho adds runflat, SUV options to UHP tyre range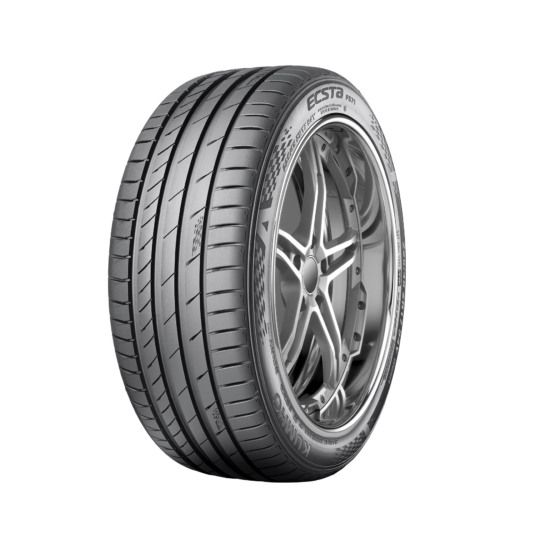 Kumho's Ecsta UHP tyre range is currently represented by the PS91 and PS71 models, covering fitments between 17 and 21". This Ecsta range has been embellished with runflat and SUV variants, extending its reach into other areas of the market, and in the process collecting an original equipment homologation on the BMW 5 Series.
The PS91 is designed as Kumho's optimum road product. Aimed at the growing replacement market for sports orientated UHP tyres, it is homologated for the latest BMW 5 Series. The entire PS91 range is Y or (Y) rated and offered in sizes from 18 to 21 inches in diameter. The focus is on maximum grip and braking performance in the dry, combined with outstanding feel. Kumho says these qualities have been achieved at the expense of no other key factor; the Ecsta PS91 features a specially designed sidewall that suppresses vibration to improve comfort and reduce noise. It also has a 3D dimple design which cools the tyre at high speeds, optimising durability and wear rates.
The Ecsta PS71 has recently been expanded, now comprising 25 fitments suitable for the growing list of car models available with 19 or 20" wheels.
The relative newcomer to Kumho's excellent duo of UHP tyres, the asymmetrically patterned PS71 was one of the first major products to be developed at the company's new R&D Centre at Yongin near Seoul, South Korea, designed for high-speed stability and strong wet weather performance. The pattern is currently available in a wide selection of Y-rated sizes from 17 to 20 inches in diameter to fit the market's best-selling executive saloons and sports cars. In addition, some 14 V, W and Y-rated run-flat sizes now form part of the PS71 line-up, all of which are available for sale in the UK.
Kumho has recently launched the Ecsta PS71 SUV, a version of the pattern specially developed for the many large, powerful SUVs destined to spend 100 per cent of their life on-road.