Industry works together on Zambian driver simulator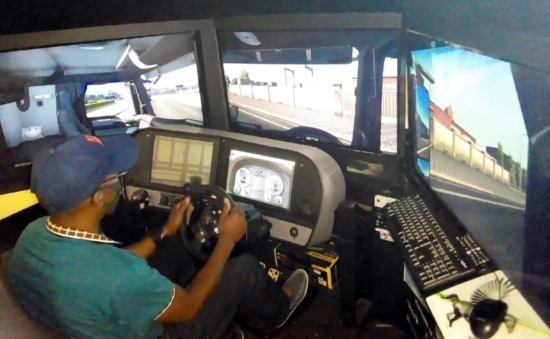 Four big names from the transport and logistics sector have come together to supply an HGV driver training simulator for the Industrial Training Centre (ITC) in Zambia, which Transaid has partnered with since 2008 to help meet the country's growing demand for professional driver training.
The donation followed a visit to ITC in 2018 by representatives of Big Change, Clipper Logistics, Malcolm Group and XPO. Following a discussion with the ITC team and board, it was identified that a simulator would allow new drivers to spend additional hours behind the wheel in the safety of the classroom. After learning some basic skills, they can then head out for some practical experience within ITC's grounds, before venturing onto quiet back roads with their instructor – often in a car at first – before taking to the wheel of one of ITC's full-size training vehicles.
Mike Daly, non-Exec Director of Clipper Logistics and long-time Transaid ambassador, sourced the simulator from Clipper's in-house training team, and then secured funds and expertise from the group to cover essential IT upgrades and shipping. Bishopsgate also stepped in to help, expertly crating the components without charge, to ensure they would be safe during the 5,000-mile journey.
The four partners also covered the travel expenses for Clipper's National Driver Training Manager, Jon Aspden, to visit Zambia and install the simulator with the ITC team just prior to the Covid-19 pandemic.
Once installed the need for further upgrades were identified, and the group collectively sourced the components during 2020, and they were personally delivered by a member of the Transaid team this year, enabling the simulator to be commissioned into service.
Daly explains: "This is a wonderful example of a group of companies, including competitors, coming together to support Transaid and ITC. A huge effort went into this project, and whilst the pandemic put the brakes on temporarily, we're delighted to see it now actively in use.
"We are all very confident it will bring genuine value to ITC, and prove particularly valuable for first-time HGV drivers, since any time behind the wheel of a simulator brings zero road risk and helps to protect the training fleet from the heavy wear and tear on driveline components which you get with new drivers. A simulator also adds a level of repeatability and flexibility which can be beneficial when training, before heading out onto the road."