Increased traction for tough going: New Galaxy LHD 510 SDS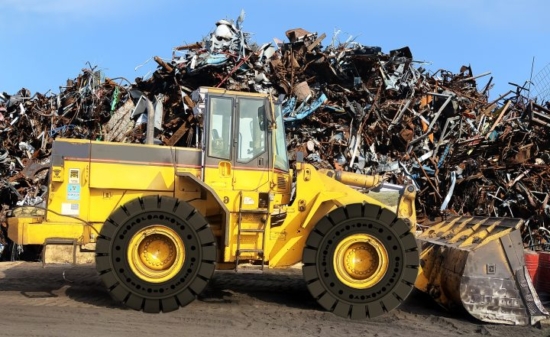 Yokohama Off-Highway Tires has introduced a new non-pneumatic solid tyre for wheel loaders. It says this latest addition to its portfolio, the Galaxy LHD 510 SDS, "opens a new chapter in terms of performance, traction and lasting tyre life."
As a Severe Duty Solid (SDS) product, this non-pneumatic tyre was developed for extreme applications and conditions such as those in waste management facilities, metal scrap yards and other recycling centres. In conjunction with a special compound formulation, the tyre's solid construction ensures a high load-carrying capacity and reliably prevents punctures, chipping, chunking and heat build-up, thus reducing wear, potential damage and resulting machine downtime. Sidewall apertures ease fatigue on hard, uneven surfaces and provide enhanced driver comfort.
Advanced S-lug traction design
Galaxy LHD 510 SDS is designed with a deep shoulder groove to provide superior traction on all kind of surfaces. Massive tread blocks with continuous S-lugs create a horizontal pattern across the entire tread surface to ensure maximum traction. Yokohama OHT says the unique zig-zag design helps to channel water away from the contact patch for reliable traction under wet conditions. This effect is further enhanced by deep grooves on the tyres' shoulders. The grooves provide effective biting edges, thus also ensuring impressive traction when the ground is fully covered by water or mud. The stepped tie-bar design provides improved ground stability whilst the rim guard effectively protects the rim.
Hard-wearing compound
Metal scrap yards and other recycling facilities are working environments that require a more robust tyre. That is why the Galaxy LHD-510 SDS comes with steel wire creel beads across the entire cross-section of the tyre, maintaining a tight and uniform contact patch to provide the strength to reliable handle high torque while eliminating rim slippage. The compound formulation Yokohama OHT used for the Galaxy LHD 510 SDS equally ensures lasting performance: Along with minimised heat build-up, robust, cut and chip resistant components also contribute to maximise service life. At the same time, sidewall apertures allow for effective heat dissipation whilst enhancing operator comfort even during long working days on hard and uneven surfaces.
Galaxy solid range – optimum choice for customers
The LHD 510 SDS joins a Galaxy solid tyre portfolio for wheel loaders that allows users to choose the optimum product – from the Super Smooth SDS to the regular LHD 500 SDS and to the new, traction-oriented design of the new range. Yokohama OHT offers the Galaxy LHD 510 SDS in four sizes: 20.5-25 (rim 17.00-25), 23.5-25 (rim 19.50-25), 26.5-15 (rim 22.00-25) and 29.50-25 (rim 25.00-25).