TruckForce UK headcount, van fleet to grow 30%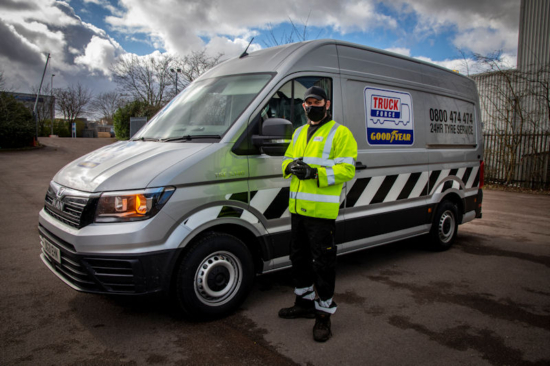 Goodyear intends to significantly expand the UK operations of its 24/7 commercial vehicle support network, TruckForce. This expansion takes the form of headcount and van fleet growth, some changes to the network's regional hubs as well as new key appointments.
Specialising in the complete lifecycle management of truck tyres, TruckForce operates the length and breadth of the UK, offering services that range from routine on-site maintenance to roadside assistance in the event of a tyre-related breakdown. It provides these services for numerous high-profile fleets, including those operated by large organisations such as Warburtons and Reynolds Logistics.
TruckForce has already made significant headway in its plans to increase both its headcount and the number of vans in its fleet by 30 per cent, representing the largest expansion the team has seen in seven years. With Goodyear having been recently appointed tyre and mobility solutions partner to a number of high-profile fleets over the past few months, TruckForce has begun to support an additional 20,000 trucks, trailers and vans throughout the UK. Goodyear thus considers this growth "invaluable" to providing extended support for both new and existing customers.
A network of strategically located hubs provide TruckForce customers with national coverage. As part of its growth strategy, Goodyear has begun to adjust the profile of its existing hubs to reflect the evolving needs of the transportation industry. It has relocated its Yorkshire hub, for example, to Rotherham, and moved the Derbyshire hub to Derby in order to open a national training facility for new technicians.
The expansion will also see the creation of two new operational roles. These roles will be responsible for overseeing the day to day running of the TruckForce network and ensuring that it continues to excel in meeting customer needs. They will also see that the network is adhering to all necessary Health and Safety requirements.
An incredibly exciting time
"This is a period of significant growth for our business, and the fact that it's taking place is a reflection of the huge amount of hard work put in by our team," comments Richard Tawlks, manager of TruckForce Equity UK. "It's a testament to the service that we provide for our customers and the confidence that they have in us.
"However, this is also an incredibly challenging time for the industry. The pandemic has put a real strain on fleets, with commercial organisations playing a vital role in keeping the UK moving, and we're very proud to have been on hand to support. Now, with the UK opening up again, this expansion underway and the new contracts that Goodyear has recently taken on, it's an incredibly exciting time for us at TruckForce. We can't wait to see where this next step takes us."