Trepel integrates Goodyear TPMS into Charger 380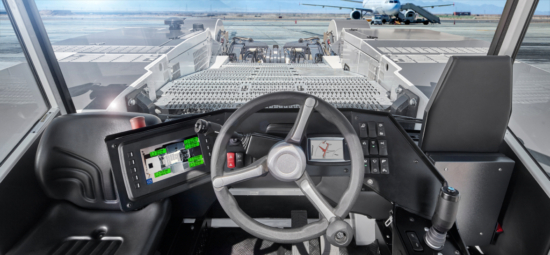 Goodyear Proactive Solutions has worked with airport equipment manufacturer Trepel to develop a tyre management solution for its latest aircraft tractor, the Charger 380. The heavy-duty version of Goodyear's tyre pressure monitoring system has been integrated into the tractor's dashboard. Goodyear calls this a "landmark industry first" for this application of its TPMS system, which normally operates through an app or web platform.
"We developed the Charger 380 as the most advanced, high power and versatile tractor," comments Bellavance David, Trepel's research and development manager, Towbarless Aircraft Tractors. "Our customers prioritise the safety of passengers and want to reduce the time pressure and complexity in the daily operations. We worked with Goodyear to create a 'plug and play' solution. Our Charger 380 dashboard has hardwiring to enable Goodyear TPMS data integration. This connected Goodyear technology adds to our range of state-of-the-art electronics. Trepel has already included high levels of connectivity to provide precision when manoeuvring and the addition of TPMS is a perfect complement to our own safety, logistics and operational electronic technology."
Massively versatile
When integrated into the Trepel Charger 380 dashboard, Goodyear TPMS brings time savings during inspection routines, during operations and when planning maintenance. A button on the dashboard will reveal tyre pressure levels at a glance and prevent downtime by altering the operator to potential issues before they arise.
"The Trepel Charger 380 is massively versatile, being able to haul large aircraft such as the Boeing 777 or Airbus A340-600. Its high torque and weight capacity bring additional challenges on the tyre front," says Eric Ghirelli, product manager Off-The-Road EMEA, Goodyear Proactive Solutions. "The required level of high load capability, coupled with the risk of wear on abrasive taxiways, mean that tyre pressure is key. Especially, the inner tyres are difficult to check visually, so the incorporated Goodyear TPMS gives added peace of mind to the driver and airport operations team."