More recycled components in redesigned Exide battery range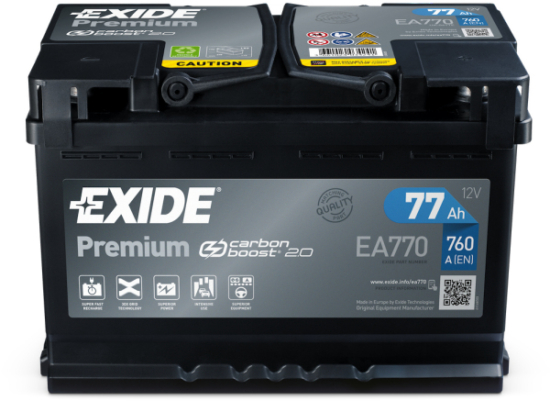 Exide Technologies is updating its Exide Premium range. The new black design utilises recycled components for reduced environmental impact: According to Exide Technologies, the change will lead to savings of 2,700 tonnes of CO2, 8 million litres of water and 1.2 million litres of crude oil in Exide's manufacturing each year.
The redesigned battery features a spill and spark-proof security lid with double flame arrestor, providing the same level of safety as the previous design. As it is an original equipment design that Exide uses for major European car manufacturers, aftermarket customers gain the reassurance of a design that's passed the strict requirements of carmakers.
Exide Technologies is introducing the new design for all top-of-the-line conventional batteries across its various product brands: Exide Premium, Centra Futura, Deta Senator3, Sonnak Powerline, Fulmen FormulaXtreme and Tudor High Tech.
Large reduction in environmental impact
"We're committed to reducing our environmental impact across our business, and we're pleased that the new Exide Premium design is having such a large impact on these efforts. An annual 2,700 tonne reduction in CO2 is a major accomplishment, and we look forward to identifying further environmental savings into the future," says Stefan Stübing, president and chief executive officer at Exide Technologies.
Exide Premium features Carbon Boost 2.0, Exide's proprietary application of carbon additives on the negative plates. This allows for recharging in half the time of conventional batteries. Faster recharging enables higher average state-of-charge throughout battery life, reducing the risk of breakdown and extending battery lifespan. This best-in-class battery is designed to withstand extreme temperature, power-hungry electrical equipment and intensive urban driving.