Goodyear back with BTCC Wingfoot award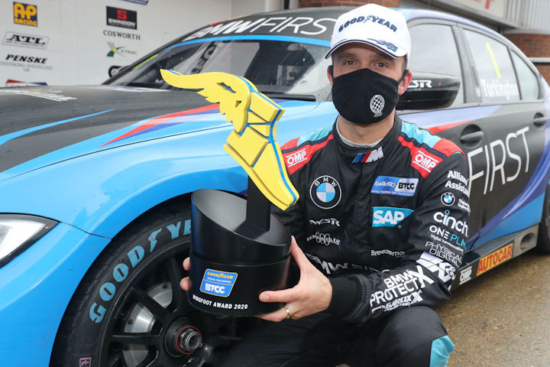 As Goodyear returns for another season as tyre supplier to the KwikFit British Touring Car Championship (BTCC), it is also bringing back the Wingfoot Award for the 2021 season. In addition, the tyre maker will launch a competition that gives BTCC fans the chance to present the Goodyear Wingfoot Award to the 2021 season's winner and also bag a set of Goodyear's award-winning Eagle F1 SuperSport tyres for their car.
The Wingfoot award focuses on a driver's ability to push their level of performance across the full race weekend and aims to reward drivers on their qualifying successes as well as encourage a strong starting position for Sunday. Goodyear will award points to drivers based on their qualifying results for each round, with the driver gaining the highest total number of points across the season winning the Wingfoot Award. It will begin at the first qualifying round at Thruxton Circuit this weekend.
The competition launches on Goodyear UK's social accounts. Fans can be in with a chance of winning by following the Goodyear page and answering a question related to the award.
Rewarding highest performance in qualifying
"We are thrilled to announce the return of the Wingfoot Award in the British Touring Car Championship, Colin Turkington was a deserving winner in 2020 and we are pleased with the response we have received since launching the award," comments Andy Marfleet, marketing director Goodyear UK&I. "We recognise qualifying as an important part of the race weekend, and the Wingfoot Award aims to reward drivers who perform highest in that qualifying session, not just on race results. Goodyear are excited to continue with the Wingfoot Award this year and to also watch the season unfold."
Viewers can keep up to date with all BTCC results including the Wingfoot Award across both ITV coverage and on btcc.net. Results will be published each week and reviewed on ITV4 coverage after qualifying.