AllSeasonContact an Auto Express awardee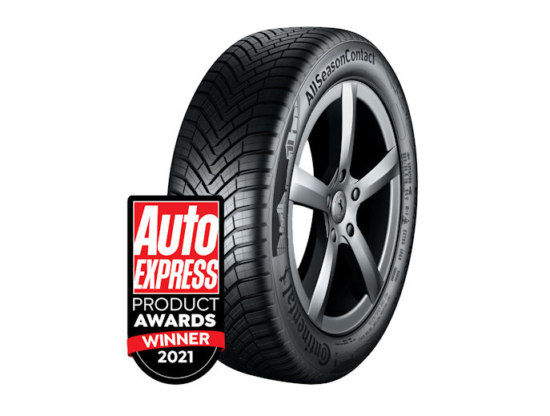 Continental has collected silverware in the Auto Express Product Awards 2021, with its AllSeasonContact winning the all-season tyre category. The tyre maker states that gaining the Best All-Season Tyre award "highlights how committed Continental is to providing drivers with the safest and top-performing choice all year round."
Commenting on the AllSeasonContact's win, Steve Fowler, editor-in-chief of Auto Express, said: "When it comes to choosing an all-seasons tyre, the Continental AllSeasonContact is the standout performer. In our most recent tests, it generated good results in the wet, but was even more impressive in the snow, while low resistance can help reduce drivers' fuel bills, too. An excellent tyre, and the Auto Express all-season tyre of the year."
The Auto Express Product Awards highlight exceptional performance, quality and value. In the tyre categories, data from tyre testing is used to validate the tests.
Suited to milder UK winters
The AllSeasonContact, Continental's first all-season tyre for Europe, made its UK debut in the all-season tyre tests in 2018. Suited to the UK's milder winter climate, the AllSeasonContact dominated in tests, using a combination of the effective aquaplaning characteristics found in Continental's winter tyres, coupled with the precision handling and short braking distances in dry conditions of their summer tyres – an essential requirement for tyres used all year round.
"It's fantastic to have been recognised once again by Auto Express for our all-season tyre," says Tracey Mortimer, Continental Tyres UK and Ireland marketing director. "The fact that the AllSeasonContact has achieved this accolade in the most recent tests highlights how committed Continental is to providing drivers with the safest and top-performing choice all year round, no matter the weather conditions."
The AllSeasonContact was also a WhatTyre all-season tyre of the year 2021 finalist, receiving a TyreScore of 8.18 out of 10.