Lightyear One: Bridgestone tyres for first commercially available long-range solar car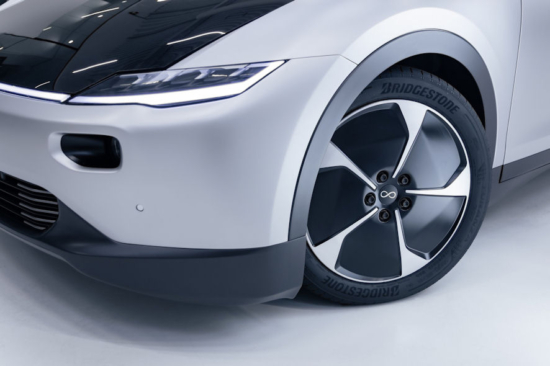 Two key agendas influenced Bridgestone's decision to get involved with the World Solar Challenge (WSC). Alongside a desire to promote sustainability, the tyre maker viewed the event as an opportunity to make contact with young innovators. One such innovator was Lex Hoefsloot, whose team from Eindhoven University of Technology (TU/e) in the Netherlands achieved WSC class wins with their Stella solar vehicles on four occasions. These victories became the starting point of a relationship between Hoefsloot and Bridgestone that continues to this day and will see Bridgestone Turanza Eco tyres fitted to the world's first commercially available long-range solar electric vehicle later this year.
"Bridgestone had very good tyres that met our needs and helped us win our first World Solar Challenge in 2013. During the awards ceremony we heard that the chief executive officer of Bridgestone wanted to talk to us," recalls Hoefsloot, co-founder and chief executive officer of Netherlands-based solar car start-up Lightyear, during an online event today. "We have partnered with Bridgestone for nine years and this has helped us to reach the stage we're at now."
Enliten meets ologic
When Lightyear's first car, the Lightyear One, debuts in the fourth quarter of 2020, it will roll off the production line with size 175/60 R19 original equipment Bridgestone Turanza Eco tyres that have been specifically developed to cope with the car's in-wheel motors. "Vehicle dynamics are completely different with in-wheel motors, and therefore we needed to redesign the tyre in terms of stiffness and durability," notes Emilio Tiberio, chief operating officer and chief technology officer at Bridgestone EMIA.
What Bridgestone did was bring together two technologies it previously kept separate – the weight-saving innovations of Enliten and a tall and narrow ologic design that's suited to carrying heavier vehicle loads. The efficiency gained through this pairing is equivalent to a more than 90-kilogramme reduction in weight and it leads to a 3.1 Wh/Km improvement in energy consumption, which is equal to a 28-kilometre improvement in range per charge.
Emilio Tiberio shares that the Lightyear One's Bridgestone tyres contain a "completely new" compound, and in addition to this, new mixing technology reduces the tyres' weight per vehicle by 3.6 kilogrammes, or around ten per cent of the overall weight without any compromise on wear mileage and grip.
This collaboration of key technologies is accompanied by another first. Tiberio shares that around half of all Bridgestone's original equipment business last year was for electric vehicles, and the tyre maker is obviously proud of its involvement with forward-looking technologies. Starting with the original equipment tyres it supplies to the Lightyear One, Bridgestone is denoting the original equipment tyres it develops for OEMS with a new Bridgestone EV sidewall marking. The idea behind this marking is to indicate that the tyre "underwent a rigorous testing process to receive approval from car manufacturers" and as a result supports "the unique features of electric vehicles and meet the car manufacturer requirements for battery range, vehicle control and tyre wear life."
Excited to play a part
Partnerships with firms such as Lightyear are very much a part of Bridgestone's current approach to innovation. Emilio Tiberio shares that Bridgestone and Lightyear "already have joint plans to 2030 laid out." The tyre maker's work with the solar car maker is just one of an increasing number of collaborations with external partners, and even though Bridgestone invests around 800 million euros in R&D a year, its sustainability goals won't be achieved alone. "We will work in partnership with OEMs and via R&D partnerships as we shift the sustainability concept from supply chain to supply circle," comments Tiberio.
He adds: "Lightyear have impressed with their approach to sustainable mobility ever since we saw the team take on the Bridgestone World Solar Challenge, and so we're excited to play a part in the Lightyear One project. Bridgestone is committed to a 50 per cent reduction in CO2 emissions by 2030 and 100 per cent sustainable materials by 2050 and strategic partnerships are fundamental to achieving these goals."
Hitting a home run with range & charging
Electric cars have become an everyday sight on UK and European roads, but what really makes Lightyear One stand out from its plug-in rivals is the 5m² solar panel on its roof. This helps the car achieve a 725-kilometre battery range and supplies around three-quarters of the energy it needs during the year. The solar panels are aided by an efficient, in-wheel powertrain and good aerodynamics.
"When people say that they're not ready to drive an electric car, their arguments mostly centre on three points – range, charging and affordability," comments Lex Hoefsloot. "The solution is to build cars with a small battery, as batteries are expensive, and then getting a lot of range from it. Solar energy provides an answer."
Hoefsloot concedes that Lightyear hasn't been able to focus on cost when developing its first car, which will sell for 150,000 euros excluding tax. "We need scale in order to make the car affordable," he explains. "But we've hit a home run with range and charging. Range is comparable with combustion vehicles. For daily driving you hardly ever need to plug in."
This even applies in cloudy Europe. Hoefsloot agrees that the Netherlands – he refers to his homeland as the "cloudiest country in the world – isn't a logical location for solar car development. "But we've seen that our cars are able to achieve 8,000 to 10,000 kilometres from the sun in the Netherlands each year. The average Dutch motorist drives 13,000 kilometres per annum." He looks forward to continued advances in the technology, too: "Solar cells will only get better and range won't even be an issue in ten years. You'll never need to charge your car."
The Lightyear One will be launched in Europe and the UK later this year. Lightyear appears to be following a pricing strategy similar to that employed by Tesla, and Lex Hoefsloot is counting on economies of scale allowing for future models to have lower price points. Following a slow ramp-up, Lightfoot aims to increase its production in 2022 and eventually enter global markets.