Bridgestone launches U-AP 002 bus tyre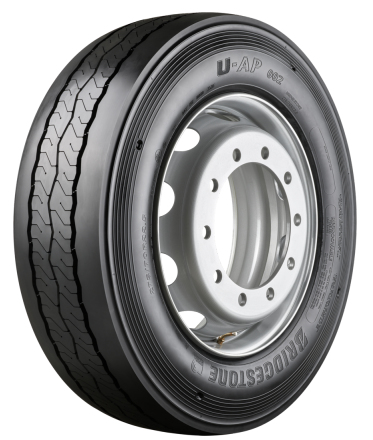 There's a new flagship Bridgestone tyre in the city bus segment, and it's called the U-AP 002. Bridgestone says it designed this successor to the U-AP 001 to lower fuel consumption and exhaust emissions in congested urban areas through decreased rolling resistance. What's more, by increasing tyre life through enhanced durability, the result is a tyre enabling a reduced total cost of ownership.
Developments in electric vehicle technologies and diversified powertrains, as well as stricter environmental regulations, are enhancing the sustainability and efficiency of city buses. But these changes also mean fleet managers now expect more from their tyres. Bridgestone has thus developed the U-AP 002 to meet these unique urban mobility challenges.
The Bridgestone U-AP 002 comes with a 'B' label grade for rolling resistance. The new flagship tyre also offers nine per cent longer tyre life compared with its predecessor, while the tyre's thick sidewall protection and strong casing enable high robustness and multiple tyre lives thanks to retreading. These features combine to result in a long-lasting tyre that reduces total cost of ownership per kilometre.
The Bridgestone U-AP 002 comes with a 200kg higher load capacity than the U-AP 001 – a key electric bus requirement – and is suitable for eight tonne steer axles. As well as CO2 emissions, the Bridgestone U-AP 002 is engineered to decrease urban noise pollution, reducing output by 2dB in PBN from its predecessor. The new flagship tyre also provides safety and peace of mind year-round as it's fully winter ready, with 3PMSF and M+S markings.
Performance engineered for city stop & go
Bridgestone was able to enhance the performance of the U-AP 002 city bus tyre come thanks to various improvements and innovations in design and compound technology. The tyre's new closed pattern design and sipe geometry ensure better performance for urban environments: the closed pattern design supports city driving while travelling at a higher torque; the new sipe geometry protects the tyre from side forces during operation. These features combine to give the U-AP 002 high protection against irregular wear, reduced noise levels, lower rolling resistance and prolonged wear life.
The tyre maker also developed its new flagship with an improved rubber compound; the high silica in the cap compounds improves rolling resistance, wear life and wet grip. The Bridgestone U-AP 002 also benefits from new drainage technology, which contains a central water channel to improve drainage and help the tyre attain excellent grip in wet conditions.
April 2021 launch
Developed in Bridgestone's European Research and Development Centre in Rome and produced in Europe, the Bridgestone U-AP 002 was tested in seven countries by Bridgestone's fleet customers across internal combustion, hybrid and electric powertrains. It is available in its master size, 275/70 R22.5, from 1 April 2021.
Three further sizes – 245/70 R19.5, 215/75 R17.5 and 315/60 R22.5 – will be available later in the year, with 265/70 R19.5 launching in 2022. The pre-cured tread U-AP 002 master size will follow and be launched in 275/70 R22.5 at the end of 2021, supporting Bridgestone's 'Total Tyre Care' approach.
All Bridgestone U-AP 002 tyres in 22.5-inch variants will be equipped with electronic tyre tagging system RFID. RFID enables tyres to be tracked throughout their entire lifecycle, which brings various benefits, including improving both safety levels and tyre recycling rates.
"Urban mobility is faced with various challenges, such as inner-city CO2 emissions and noise pollution – challenges we're investing in to help address," says Mark Tejedor, vice-president Commercial Replacement and OE at Bridgestone EMIA. "Public bus transport is an integral part of a city's ecosystem and we're delighted to launch a tyre that helps to tackle these various issues at once. Increased mileage, reduced fuel consumption, CO2 emissions, noise and total cost of ownership – these are features that benefit our customers, the environment and city life."