Bespoke Michelin tyres for Harley-Davidson Pan America 1250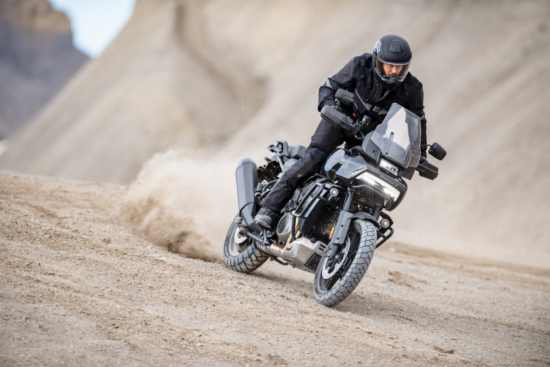 More than 40 per cent of Harley-Davidson motorcycles come factory fitted with Michelin tyres. The latest Harley to ride on the French firm's products is the Pan America 1250, which is fitted exclusively with Michelin tyres.
Michelin and Harley-Davidson engineers worked together on a tyre that enables "exacting" owners of this bike to "be able to enjoy their motorcycle's capabilities to the full." This tyre is the Michelin Scorcher Adventure, a product intended for 80 per cent on-road and 20 per cent trail use.
To ensure optimum performance on both types of surface, the Scorcher Adventure incorporates numerous Michelin innovations, including 2CT+ technology and latest-generation compounds for the rear tyre to achieve the required high standard of stability. Meanwhile, the front tyre's stiff compound ensures outstanding steering torque and facilitates leaning into corners despite the Pan America 1250's power – one of the highest in its category – and weight.
Co-branding is another hallmark of the association between Michelin and Harley-Davidson, and the Scorcher Adventure is no exception. The names of both brands and their respective logos appear on the sidewall of this bespoke tyre.
Michelin Anakee Wild for high-performance trail use
For Pan America 1250 owners who use their motorcycle more frequently on unsealed roads, Michelin and Harley Davidson propose the Michelin Anakee Wild as an option. This tyre's tread design makes it ideally suited to up to 50 per cent track/trail use thanks to its superior traction performance, agility and directional precision on loose ground.