Yokohama SUV tyre receives 'world's most prestigious design award'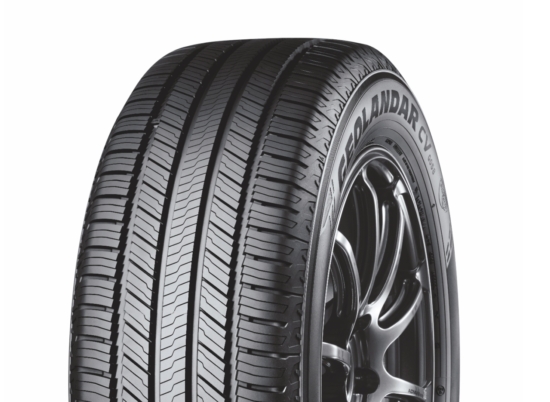 Yokohama's Geolandar CV G058, a grand touring tyre for crossover SUVs, was among the winners at the recent Chicago Athenaeum 2020 Good Design Awards. The award-winning tyre is part of Yokohama's Geolandar range of tyres for 4x4s, SUVs and crossover vehicles.
Established in 1950, The Chicago Athenaeum Good Design Award, is the world's oldest and most prestigious worldwide design award. Organised by the Chicago Athenaeum Museum of Architecture and Design, candidate products are judged by experts who evaluate them from diverse perspectives, including design, use of new technologies, materials and function.
The CV G058 is one of the most popular tyres within Yokohama's Geolandar range. Specifically intended as a grand touring tyre for crossover SUVs, it is designed to provide reliable wet performance and mileage as well as "a quiet and comfortable ride for passengers". Key features of the tyre include "advanced compound technology" and a sipe-based symmetric tread pattern with four main grooves, which contribute to the tyre's enhanced traction, durability and resistance to uneven wear. The Geolandar CV G058 is available in sizes from 15 to 20 inches in diameter.
Meanwhile, from Yokohama's flagship Advan range, its Advan Sport V105 and V107 patterns have been selected by a number of premium vehicle manufacturers for fitment as original equipment to a number of their luxury SUVs including the Audi Q7, BMW X3, X4, X5 and X6 models, Mercedes-Benz AMG GLE and GLS models, as well as the Porsche Cayenne. Designed to provide "the highest levels of comfort and grip", the tyres are available in sizes ranging from 17 – 23 inches.
One of the latest tyres added to Yokohama's product line-up within its SUV range is the BluEarth-XT AE61. The tyre is designed for use on crossover urban SUVs and CUVs as a summer tyre. Featuring an asymmetrical tread pattern, the BluEarth-XT AE61's combination of nano-blend rubber compound and four straight main grooves contribute to the tyre's A-grade wet-grip certification while delivering "the sharp handling performance drivers require on city streets". On faster roads where noise becomes a factor in urban SUVs, the use of five-pitch tread pattern variation design and non-penetrating shoulder grooves work together to subdue road sounds, providing superior level of quietness. The BluEarth-XT AE61 is available in sizes ranging from 16 to 20 inches.
Finally, the Geolandar X-CV G057, is a highway terrain tyre for mid-size and larger high-performance crossover SUVs that promises "exceptional performance and driveability". While delivering comfort and durability, the Geolandar X-CV also provides safety with an asymmetric pattern design for traction and handling on both wet and dry surfaces. The Geolandar X-CV G057 is available in sizes from 18 to 22 inches in diameter.