New Serbia plant key to more profitability – Toyo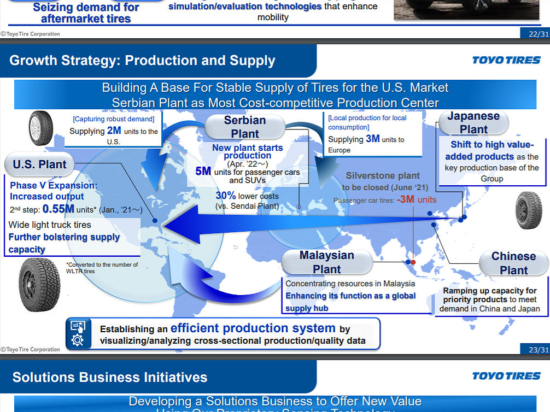 Toyo Tire Corporation's 2021 to 2025 'Mid-term '21 plan' indicates the brand's intentions for its new Serbian plant, due to commence production in April 2022. The Japanese brand says the facility will not merely offer "local production for local consumption." It says the plant will play a major role in further international expansion, becoming by far its most cost-effective.
Of the five million car and SUV tyres to be produced annually in Serbia, three million will be marketed in Europe, while the rest will be shipped to North America. Compared to Toyo's major plant in Sendai, Japan, Serbia is around 30 per cent cheaper. In addition, a large part of the logistics costs will be eliminated. Therefore, according to Toyo's plan, its overall profitability should then increase significantly, from currently 36.3 billion yen in operating profit (2020), corresponding to a return on sales of 10.6 per cent, to 60 billion yen, or "14 per cent or more".
In addition to its new Mid-term '21 plan, which you can find here on the manufacturer's website, Toyo Tire has also published a new Financial Fact Book.