Kumho adds 12 Ectsa PS71 SUV tyre sizes to its range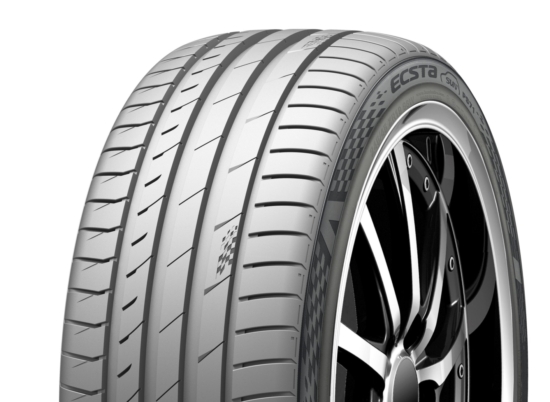 The breadth of Kumho's 4×4 tyre range has been further enhanced by the addition of the new Ectsa PS71 SUV in some 12 sizes, specially developed for large, powerful SUVs and designed for 100 per cent on-road use. As a result, the vast majority of requirements will be covered by the newcomer and other on-road products such as the Crugen HP91 and HP71, plus the cross-functional Road Venture patterned MT51 and AT61. Between them, they cover everything from top-end SUVs such as the Audi Q7, Range Rover and BMW X5 to the ever-popular classic Land Rover Defender.
Aimed at owners of SUVs who seek the optimum driving experience from their prestige vehicles, the high-performance Crugen HP91 features an asymmetric tread pattern combined with four wide circumferential grooves. Its silica-enhanced compound supports its wet weather handling and braking as well as rolling resistance performance comparable to that of most passenger car tyres. According to Kumho, the product's other major attributes include: strong high speed stability, low wear rates, and outstanding resistance to aquaplaning. HP91 is manufactured in V, W and Y speed ratings and is available in 48 sizes up to 22 inches to fit, for example, the Range Rover and Range Rover Evoque, BMW X5 and X3, and Volvo XC90 and XC60.
The recipient of a prestigious Red Dot design award in 2017, the HP71 is aimed squarely at the mid-sized line-up of SUVs currently constituting the fastest growing sector of the UK vehicle market. Its symmetrical tread pattern features four circumferential grooves for optimum water displacement, reinforced shoulders for strong cut and chip resistance, and a zig-zag solid centre rib for maximum stability. It also boasts an impressive degree of traction and low noise output. HP71 is currently available in some 17 sizes for rims from 16 to 19 inches in diameter and a mix of H and V speed ratings.
A relative newcomer to the Kumho 4×4 range, MT51 now carries the mantle of being the company's prime off-road mud terrain offering. It provides the perfect combination of balanced on/off road driving and excellent off-road traction, while the braking performance is equally impressive on surfaces as diverse as tarmac and gravel. The stiff sidewall construction minimises punctures, while notable shoulder notching maximises the tyre's rock crawling performance.
The eye-catching sidewall livery conjures up images of the type of heavy plant MT51-shod vehicles may well rub shoulders with from time to time. It is currently available in 15 popular sizes to fit rims of 15 to 17 inches in diameter.
The latest member of Kumho's cross functional line-up, AT61, features: two-step sipes for improved snow performance; larger, stiffer tread blocks for increased mileage; and zig-zag grooves for enhanced traction. The sidewall is designed to offer strong resistance to penetration and a rim protector to safeguard the alloy wheels that are standard fit on most on-road vehicles these days. The AT61 is available in a selection of eight sizes to fit 15, 16 and 17 inch rims.