Jinyu launches three next generation truck tyres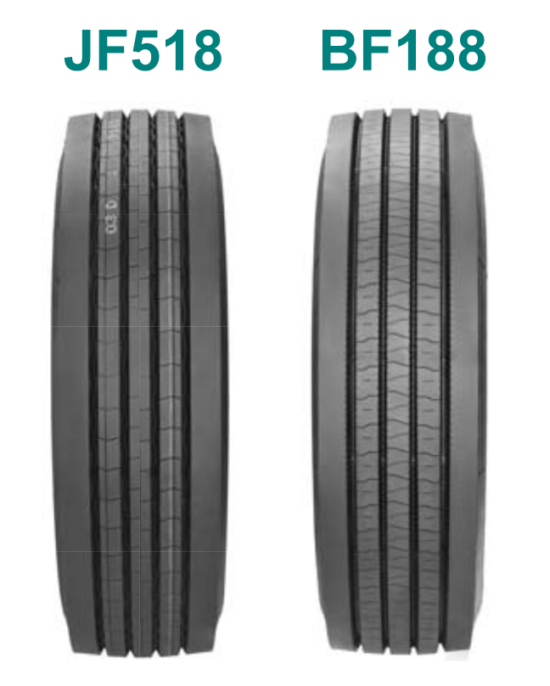 Jinyu Tire has launched three new truck tyres, reinforcing its line-up for the European market. The Jinyu JF518 and Blacklion BF188 steer tyres replace the JF568 and BT165 respectively, designed to reduce rolling resistance and therefore cost per kilometre. It is also adding the new Jinyu JA626 on/off trailer tyre. Jinyu said the new products have been developed in response to increasingly demanding European market requirements.
Jinyu says the new steer fitments deliver 10-15 per cent more mileage than its current products, while rolling resistance is reduced by 5 per cent. The new tyres feature upgraded tread compounds, wider tread designs, optimised tread footprints, a low heat rubber compound, an optimised construction designed to be lighter weight, and the use of new steel cord to reduce energy loss through hysteresis. The new line-up has been designed to provide users with lower cost per kilometre and high levels of grip in all weather conditions throughout the complete life of the tread, Jinyu added, with a higher-strength carcass.
The Jinyu JF518 and Blacklion BF188 are available immediately in five key fitments:
315/70R22.5,
315/80R22.5,
245/70R19.5,
265/70R19.5,
and 285/70R19.5.
It adds that this line-up will be expanded in December 2021 with the launch of 295/60R22.5 and 315/60R22.5 models.
On/Off trailer tyre
Jinyu's new on/off trailer application truck tyre, the JA626 is suitable for all weather conditions. Featuring a reinforced carcass and robust tread for applications in the construction segment, the JA626 is available immediately in three key fitments:
385/65R22.5,
425/65R22.5,
and 445/65R22.5.
According to Jinyu, the tyre features a long-lasting tread to reduce tyre cost per km; durability for reducing accidental damage and time-wasting breakdowns; and a new pattern, optimised for pressure distribution. This limits tread deformation and reduces rolling resistance.
The new line-up incorporates Jinyu's latest technologies, which it says take its tyre performance "to a completely new level." Reducing total cost of ownership with improved mileage and rolling resistance is a key performance development goal in its latest commercial vehicle tyres.