Giti Gazelles limbering up for Morocco rally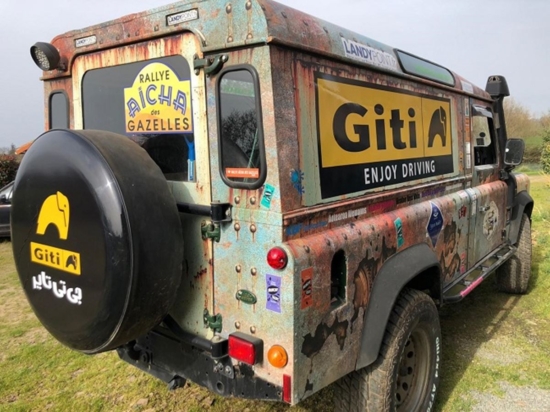 Meet the Giti Gazelles. A new partner of Giti Tire, this all-female off-road driving team will represent the tyre maker in a variety of competitive and community support activities. Headlining the events in the first half of the year will be the Rallye Aïcha des Gazelles desert rally held in Morocco from 14 to 29 May. The rally is the original female-only off-road rally raid and the only one with ISO-14001 environmental accreditation.
Introducing the driving team, Giti Tire shares that the Giti Gazelles team brings together passionate and seasoned driving veteran Helen Tait Wright and experienced navigator Sue Alemann, as well as their beloved vehicle, Priscilla.
Helen grew up on an English farm and has spent her working life in the design world. "She has been a car fanatic all her life and says being behind the wheel is her happiest place," comments Giti Tire. The 2021 event will be her second participation in the Rallye des Gazelles.
Sue is from New Zealand, where she learned to navigate on the waters around Auckland, a skill she has already proven in off shore sailing in the northern hemisphere. A consultant by profession, and an adventurer at heart, this will be Sue's first navigation in the Sahara.
Priscilla is a Land Rover Defender 110, one of several Land Rovers in Helen's garage, and is fully prepared by the team for her second running in the desert adventure. Based in France, the team travels frequently throughout Europe as well as other locations, such as the upcoming North Africa event. Priscilla is equipped with Giti4x4 AT70 tyres, which enable both on-road and off-road action throughout different terrains.
"Having Giti Tire as our Principal Partner for this challenging all woman event has enabled us to participate in training in Morocco ahead of the event and to focus more on our preparation. In addition we are of course so excited and proud to be running their technologically advanced all-terrain tyres, the AT70s, in the competition for the first time", explained Tait Wright and Alemann.
A unique event
The Rallye Aïcha des Gazelles is a unique event, first started in 1990. Since its creation, the all-female rally has developed a new vision for motorsports – using no GPS and taking place entirely off-road. Its focus is utilising a navigation plan by each team to achieve success during the 15-day adventure, rather than an emphasis on speed.
In addition to the driving action, Giti Tire and the Gazelles are sponsoring community support projects along with the event, which will focus on environmental initiatives – as well as educational support in rural Morocco.
The partnership with the Giti Gazelles continues Giti's commitment for diversity, as well as encouraging the empowerment of females in motorsports. This also includes the company's ongoing partnership with the 'Girls Only' Giti/WS Racing Team – an all-female racing team that has seen great success in recent years, including winning its group in Nürburgring VLN racing action and strong performances in the past two 24 Hours Nürburgring races on Giti tyres.