Classic car tyres – retro cool or old hat?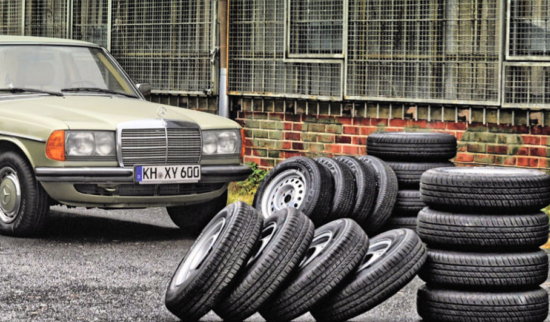 The market for classic car tyres is a small but profitable one, with some vehicle owners prepared to pay three or four times the price of a regular tyre for a fitment that looks the part. Several major tyre brands now offer classic lines; these are either past products brought up to date with modern compounds and/or construction or newly-developed tyres featuring period treads. But how do these tyres compare with modern standard tyres? To find out, Auto Bild Klassik has tested three classic tyres – the Michelin XAS, Vredestein Sprint Classic and Dunlop Sport Classic – against four modern counterparts.
Armed with a Mercedes 280E that was showroom-fresh back in 1981, the Auto Bild team examined the tyre size 175/80 R14, a dimension at home on mid-size saloons four or five decades ago. They tested all seven candidates for their performance in wet and dry conditions as well as for comfort and rolling resistance.
What the German car magazine's testers found was that while the performance delivered by the best classic tyre in the test was excellent, it didn't quite suffice for first place; that honour went to the distinctly non-classic Hankook Kinergy Eco 2. The other two classic tyres found themselves at the less enviable end of the table.
The Dunlop Sport Classic gained, as runner-up, Auto Bild Klassik's top 'exemplary' rating. And there's an important reason why the Dunlop tyre fared better than its classic competitors from Michelin and Vredestein – the Sport Classic is an all-new design with a classic look. In contrast, the XAS and Sprint Classic are past designs (the Vredestein tyre has an updated compound) and are classed as EU tyre label exempt. Auto Bild gave both tyres its 'conditionally recommendable' rating.
"Our test clearly shows that modern tyre technology with new compounds and modern materials makes sense in classic designs as well," comment Auto Bild testers Henning Klipp and Dierk Möller. They add that while the Hankook tyre would be the first choice for price-conscious buyers, classic enthusiasts will also be happy with the much more expensive Dunlop tyre.
3 exemplary tyres
Hankook Kinergy Eco 2 – test winner
Strengths: "Flawless" – harmonious, precise driving behaviour on wet and dry surfaces, short wet and dry stopping distances, safe aquaplaning qualities, low purchase price.
Dunlop Sport Classic
Strengths: Exemplary premium tyre with classic design, very good aquaplaning safety reserves, safe, balanced driving characteristics.
Weaknesses: High price level.
Barum Brillantis 2
Strengths: Standard summer tyre with best aquaplaning safety reserves, stable wet and dry handling, harmonious steering behaviour, short stopping distances in the wet.
2 'satisfactory' tyres
Firestone Multihawk 2
Strengths: Good aquaplaning characteristics, harmonious handling on dry surfaces, well-priced.
Weaknesses: Limited grip on wet surfaces, wooden ride comfort.
Maxxis Mecotra 3
Strengths: Good aquaplaning characteristics, stable wet handling, short stopping distances in the dry, low rolling resistance.
Weaknesses: Slightly lengthened wet stopping distances, inharmonious dry handling.
2 'conditionally recommendable' tyres
Vredestein Sprint Classic
Strengths: Dynamic dry handling and precise turn-in, short stopping distances on dry surfaces.
Weaknesses: Limited aquaplaning performance, high price level.
Michelin XAS
Strengths: Best driving characteristics on dry surfaces, quiet and comfortable.
Weaknesses: Limited performance on wet surfaces, low aquaplaning reserves, raised rolling resistance.