Bumpy roads and leveraged buy-outs – reflections on the Goodyear/Cooper Tire integration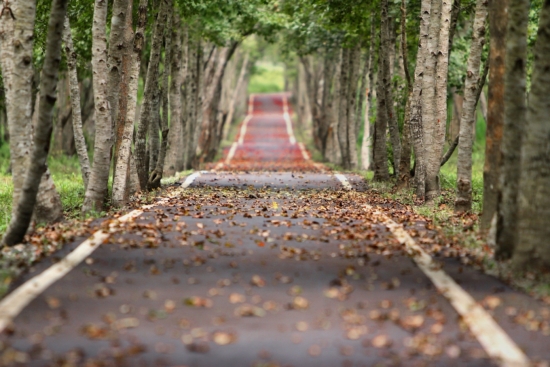 Goodyear's $2.5 billion-dollar acquisition of Cooper is the biggest tyre industry news story of 2021 so far (click here for detailed analysis of the deal itself). But takeovers – especially those this big – are seldom easy. A large portion of the motivation behind the acquisition is to bolster Goodyear's position in the high-value 4×4 and SUV tyre segments. So, with this in mind, what kind of terrain is the deal likely to encounter as the two companies make their way towards integration and what might it mean for Cooper, Avon and the Melksham manufacturing operation?
In the past, Cooper Tire has been linked with investments in Kenda and Kumho as well as joint ventures with Chengshan and Sailun. It is fair to say that some of these have gone better than others. The closest comparison to what is currently underway in America, is Apollo's erstwhile takeover of Cooper eight years ago.
In 2013, the rationale was that the two companies were evenly spread geographically, which is good for production and delivery. At the same time, the brands were seen as different enough not to cannibalise each other. However, the deal fell down for two reasons. Firstly, because of industrial disputes in the US and China. And secondly, due to a clash of cultures between the Indian-owned Apollo and the US-owned Cooper as well as between Cooper's and joint-venture partners in China (which is likely to have, at least partly, fuelled the Far Eastern industrial dispute that led to the collapse of the deal).
Cultural proximity a plus
Since cultural distance was such a significant factor the last time round, it is no surprise that Goodyear chairman, president and CEO Richard J Kramer highlighted the cultural proximity of Goodyear and Cooper: "We have a great deal of respect for Cooper's team and share a commitment to integrity, quality, agility and teamwork." However he did so in a context that reminds everyone involved of the natural order of things: "We look forward to welcoming Cooper to the Goodyear family", something that is likewise reflected in the positioning of Cooper as "the mid-tier power" brand within the Goodyear portfolio.
As far as the brand positioning is concerned, the decision to designate Cooper as "mid-tier" from the outset contrasts with previous efforts to pitch Goodyear and Dunlop as dual premium brands – in Europe, at least. The problem is that the post-integration brand portfolio is now somewhat full, with Goodyear, Dunlop, Cooper, Kelly, Fulda, Sava, Debica, Mastercraft and Starfire all now figuring in the passenger car tyre segment. In addition to this nine-brand line-up, there is also Avon, which is well-known and loved in the UK. The sharp-eyed amongst us will have noticed that Avon was not included in Goodyear's list of passenger and light-truck brands. Rather, it was positioned alongside Cooper's Dick Cepek and Mickey Thompson "specialty" 4×4 tyre brands. This move can be interpreted at least two ways: either Avon is being shifted towards the 4×4 sector or the plan is to reserve it for motorcycle and motorsport moving forward.
Considering recent developments at Cooper's Melksham, UK manufacturing operation, which is also home to the company's European headquarters, the latter outcome seems likely. In October 2018 Cooper announced plans to move its car and SUV tyre manufacturing operations to "other sites in its manufacturing footprint", which is generally taken to mean Serbia. This left Cooper Tire Europe's headquarters, sales and marketing offices, Europe Technical Centre and materials business in Melksham along with its motorsports and motorcycle tyres. However, production volumes are low and the impact of integration results in only a few possible outcomes: closure, due to small volumes, or a further focusing of the site on its specialisms in motorsport and motorcycle tyres.
As far as price is concerned, while some analysts have questioned why Goodyear is prepared to pay 20-30 per cent above Cooper's share price for the company, it must also be pointed out that $2.5 billion is roughly the same as Apollo successfully bid for Cooper in 2013. Still, several different financial sources – from credit analysts to those representing investors – have expressed reservations about both the rationale and the partly-leverage method of financing the acquisition, with one source suggesting Goodyear is paying "a high premium for some of the oldest and most outdated plants in the US in a down market" and "for a brand which squarely competes with Kelly".
Most can understand why the deal is seen as a win for Cooper shareholders who stand to gain both a decent premium on their investments as well as a shareholding in Goodyear at the end of the deal. But the deal is clearly about more than brands and pricetags. It is clearly about replacement market share in the US and OE share in China. In the US, post-combination Goodyear stands to gain about 40 per cent, growing to a total of 64 million units (including all Cooper's private brand sales), with a much more modest growth in OE. But in China things are the other way round and Goodyear doubles its OE position in China where tyre demand is growing twice as fast as it is in the US.
On a lighter note, Goodyear's decision to buy Cooper somewhat frustrates former US President Donald Trump's calls to a) put America first and b) boycott Goodyear. So, moving forward, if US citizens want to put American tyre manufacturing jobs and brands first, they only have one choice – buy a tyre brand owned by Goodyear. The same company that is set to double its Chinese market share via the acquisition of Cooper.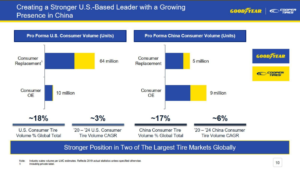 *This article was edited to include further discussion relating to Cooper's UK operations on 03/03/21.