Apollo Tyres' #BadRoadBuddies returns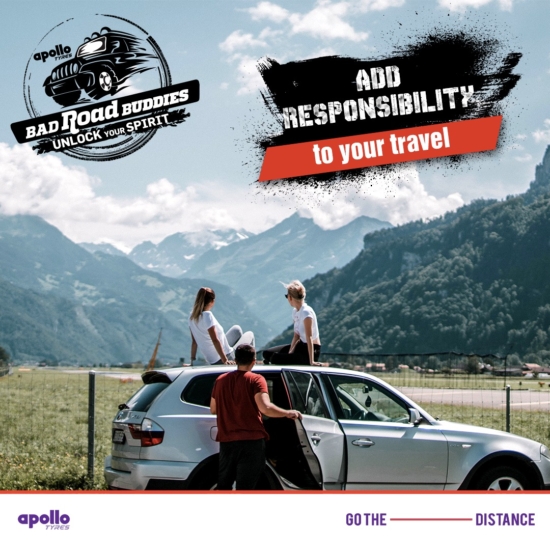 Following the inaugural edition in Goa two years back as well as thousands of smaller editions in different locations over the last 24 months, Apollo Tyres' #BadRoadBuddies concept returns in a digital format. Since most of the activations have moved to the virtual space, the company has also chosen to build the community of enthusiasts online and is opening this event to SUV owners/drivers and the two-wheeler riders, who enjoy drives during the weekend or on leisure/adventure trips.
Enthusiasts willing to participate in #BadRoadBuddies, must upload the video/ photographs of their drive on Apollo Tyres' social media channels, tagging their buddies, which would then be judged under the following categories:
Best video on a road trip
Best photography on a road trip
A hidden eatery
BRB Cares – a social cause undertaken during the drive/trip
Commenting on this initiative, Satish Sharma, President, Asia Pacific, Middle East & Africa (APMEA), Apollo Tyres Ltd said: "We wanted to provide the enthusiasts a platform to come together and discover the roads less travelled across the vast Indian terrain. Bad Road Buddies is a special initiative curated by Apollo Tyres for them. We have opened this to people who love to explore the unexplored, and enjoy driving, whether on a two-wheeler or a four-wheeler, and our range of tyres will always be a reliable companion for their drive."
For anyone not already in the know, Bad Road Buddies is a community for enthusiasts to come together and discover the unexplored beauty that beholds in this vast terrain that is India. As the promotional literature says: "No matter how bad the roads are, as long as your buddies are with you, everything becomes bearable." The idea is to create a community of enthusiasts from different backgrounds who come together to show their love for the unexplored and, in Apollo Tyre's words, "to go the distance".