Apollo targets India's CSUV market with Apterra Cross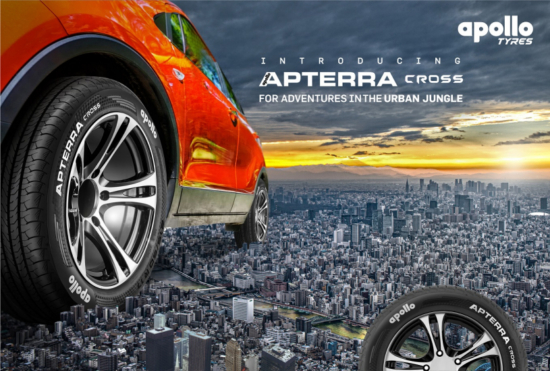 Apollo Tyres has launched a new tyre range to satisfy demand in India's fast-growing compact SUV market. The tyre maker says it has introduced the Apollo Apterra Cross following two years of development and testing, and will initially offer the range in five sizes for 16- and 17-inch rim diameters. While Apollo Tyres currently has no plans to bring the Apterra Cross to Europe, it intends to distribute the range in ASEAN and SAARC markets at a later date.
Introducing the Apterra Cross, Apollo Tyres notes that India's compact SUV market currently requires around 400,000 tyres a month – and it expects this quantity will double before too long. In order to meet demand within this segment, Apollo says it undertook "in-depth research" to "understand the exact usage patterns" of compact SUV owners and drivers. It designed the new tyre at its Chennai-based Apollo Tyres Global R&D Centre Asia in Chennai and is producing the range at the nearby Oragadam factory.
Aggressive design to target a leadership position
"The Apterra Cross with its aggressive design, is by far the best-looking tyre in the market for CSUVs and performs brilliantly under all conditions," states Apollo Tyres. "From the quietest and most comfortable ride, to extra durability that ensures no compromises even when travelling through bad patches of roads, these tyres are a perfect combination of both comfort and style."
Commenting on the launch, Satish Sharma, Apollo Tyres' president, Asia Pacific, Middle East & Africa (APMEA), said: "The rise of the compact SUV segment, priced affordably, has reinvigorated the dream of owning an SUV in the Indian market, and we being the segment creators in the tyre space, are looking at leveraging on this opportunity with a dedicated range of tyres for this growing segment. We have the first mover advantage with Apollo Apterra Cross, and we are targeting at a leadership position in this segment."