Yokohama Rubber using AI to predict rubber properties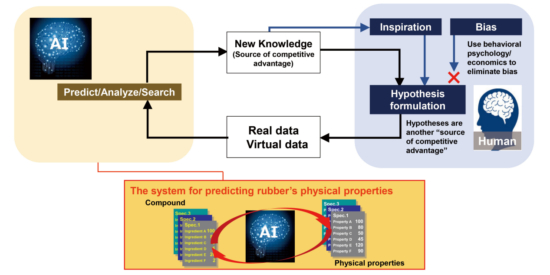 Yokohama Rubber reports it has developed a system that utilises artificial intelligence to predict the physical properties of rubber compounds, and from this breakthrough that it achieved last December has produced a proprietary system that is already being used to design rubber compounds for Yokohama tyres. The manufacturer expects that the system's ability to conduct a large number of virtual experiments will accelerate compound development, reduce development costs and lead to the development of better-performing products. In addition, the system will simplify the compound-creation process for less-experienced engineers.
The tyre maker developed the system under its new HAICoLab (short for Humans and AI ColLaborate) concept for utilising artificial intelligence, which it launched in October 2020. The system draws upon artificial intelligence to predict a rubber compound's physical properties based upon parameters entered by an engineer. To help engineers confirm predicted results, the system also includes a function that displays the certainty of predicted physical properties as well as a function that searches for a compound composition that will achieve the physical properties closest to the desired target.
Going forward, Yokohama Rubber will expand its use of this new system for developing rubber compounds beyond tyre applications, extending it to other products within its manufacturing portfolio, such as hoses and conveyor belts.
HAICoLab in line with Society 5.0
HAICoLab aims to foster digital innovation by facilitating collaboration that merges human inspiration and creativity with the enormous data processing capability of artificial intelligence. Yokohama Rubber intends to acquire new knowledge by creating and collecting data based on hypothetical conditions set by humans and then applying artificial intelligence to predict, analyse and then search for the most optimal result.
Yokohama Rubber has utilised artificial intelligence in its material and tyre design and development processes for some time now. In 2017 it unveiled a new rubber material development and tyre design technologies that applying informatics technology. The new HAICoLab concept embraces Japan's 'Society 5.0 initiative' through its use of artificial intelligence to develop innovative products and services as well as processes.