Second VW Group fitment for AA-rated GitiSynergyH2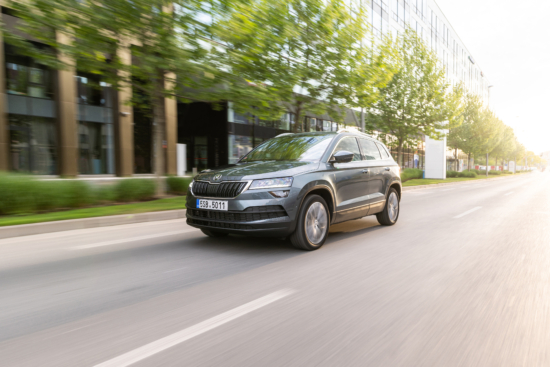 The first tyre produced by Giti Tire to attain A grade wet grip and fuel economy on the EU label tyre has secured its second VW Group fitment in as many months. This time, the Skoda Karoq will roll off factory lines on the GitiSynergyH2 in size 225/55R17 97V. The mid-sized SUV joins the light commercial Volkswagen Caddy 5 in selecting the version of the new tyre, specially developed in cooperation with the VW Group. The tyre is due to receive its aftermarket launch in March 2021, and will replace the GitiSynergyE1 and GitiPremiumH1, with which Giti launched its brand in Europe in 2016.
Martin Wells, Director OEM Europe at Giti Tire, said: "To secure both passenger car and commercial vehicle OE fitments with the GitiSynergyH2 is testament to the tyre's undoubted qualities across all areas of performance, especially of course in rolling resistance and wet grip.
"We will continue to work closely with the VW Group, and all other vehicle manufacturers, to see how the new tyre and our soon to be announced second generation patterns can also benefit their latest models and size requirements."
GitiSynergyH2 features
The tyre was designed and engineered at Giti Tire's European Research & Development Centre in Hannover, with testing at the company's MIRA facility in the UK as well as key locations in Germany and Spain.
It is the first European tyre which utilises the AdvanZtech technology platform, the manufacturer's globally-integrated, company-wide R&D system. AdvanZtech is designed to promote sharing and utilisation of specialised and advanced technology to create tyres which enhance the overall driving experience.
Giti says the results of this development process include a completely new tread compound, which delivers significant improvements in wet and dry safety, and a new pattern that increases handling precision and stability, as well as improving aquaplaning resistance.
The manufacturer adds that the GitiSynergyH2 has been designed to reduce cost of ownership across the life of the tyre too. Its mileage potential is almost 20 per cent further, depending on driver behaviour. The tyre also features a new lightweight carcass, which delivers low rolling resistance to improve fuel efficiency.
Giti sums up the core focus of the tyre as "safety without worry, comfort and quietness, driving pleasure and green credentials."