Recycled tyres used in new strengthened concrete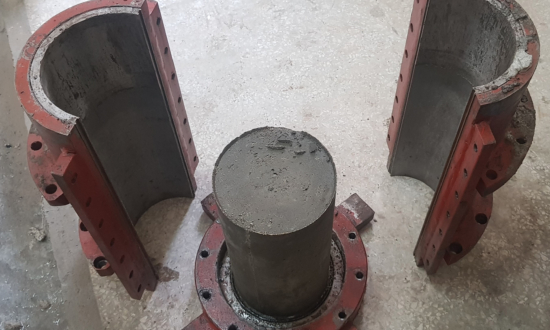 We've all heard of tyre-derived oil and rubberised tarmac, but what about tyre-utilising concrete? Australian researchers have developed a new technology to manufacture concrete made from recycled materials including tyres that is stronger and more durable than the traditional product.
Specifically, researchers from the Royal Melbourne Institute of Technology, which is known as RMIT University, have developed a new method for casting prefabricated concrete products made with rubber tyres and construction and demolition waste that are up to 35 per cent stronger than traditional concrete.
Professor Yufei Wu from the School of Engineering led the development of the Rubberized Concrete Processing Technology (RCP-Tech) and said it offered an efficient and inexpensive solution.
"This technology can be used to significantly improve the strength, hardness and durability of any type of concrete material, such as rubber concrete, recycled aggregate concrete, and even ordinary concrete," he said.
The concrete is compressed in a customised mould, improving strength and durability. The method involves combining a mix of course and fine aggregates with rubber tyre waste, cement and water which is then compressed to its minimum volume using pressure in a customised mould.
"By enhancing the properties of the recycled waste without the use of any additional materials, we have developed a feasible and practical solution that addresses the performance issues affiliated with waste recycling in concrete," Wu said.
From 2015-16 Australia generated around 450,000 tonnes of waste rubber, 63 per cent of which was sent to stockpiles or landfills and Victoria alone produces the equivalent volume of the Eureka Tower every four years.
PhD researcher and RCP-Tech co-creator, Syed Kazmi, said the team was now looking to partner with the precast concrete industry to manufacture and test prototypes of products like blocks and roadside barriers, wall panels, beams and slabs.
"The technology can be easily applied in the precast concrete industry and requires very little change to existing manufacturing processes with the addition of just one extra step in the final stage of production," he said.
Kazmi and fellow PhD researcher Muhammad Munir presented the technology at the City of Melbourne Open Innovation Competition 2020 where they were finalists. They were also awarded the RMIT LaunchHUB prize for their work.
Evidence of the researchers' findings can be read in the team's recently-published peer-reviewed journal article "Application of waste tire rubber and recycled aggregates in concrete products: A new compression casting approach", which is published in the academic Journal Resources, Conservation and Recycling.