Porsche Taycan sets 102mph indoor land speed record on OE tyres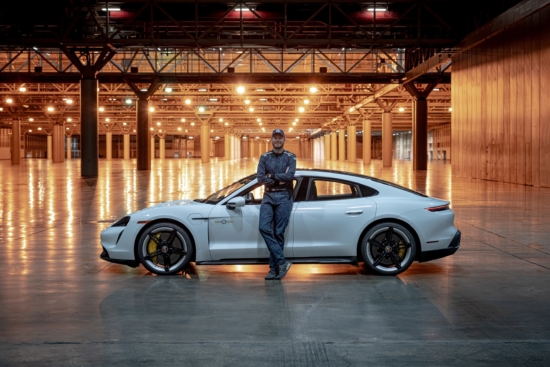 Until recently, the Guinness World Record for the fastest speed by a vehicle indoors stood at 86 mph. That was until Leh Keen's Porsche Taycan Turbo S was clocked by independent adjudicators at 102.6 mph inside the New Orleans Convention Center. Keen's all-electric Taycan Turbo S has a maximum of 750 hp, with four-wheel drive to maximize grip, powerful carbon ceramic brakes and the ability to accelerate to 60 mph from a standstill in just 2.6 seconds. And what's more the record was set on the Taycan's standard fitment original equipment (OE) tyres. But what tyres were they?
The tyre manufacturers involved announced during 2020 the Porsche Taycan's standard tyre fitments are Pirelli P Zero Elect and Hankook Ventus S1 evo 3 ev electric vehicle tyres supplied in size 225/55R19 XL 103Y on the front axle and 275/45R19 XL 108Y on the rear axle. Porsche's photographers haven't made it easy for us to identify the branding on the sidewall. But looking closely at the top-right of the front wheel on the official imagery reveals what appears to be a P Zero print on the sidewall. Meanwhile, looking at 8 o'clock position on the rear axle tyre, there is a barely discernible Pirelli logo. Put the two together with the knowledge that Pirelli is one of the two main OE tyre suppliers and our money's on Pirelli being the record-brake tyres equipping the Taycan's record braking run.
The rules for the indoor land speed record bid – strictly enforced by Guinness World Records – were clear. Keen had to start his record attempt and finish it at a standstill, all within the space of the building – there could be no run up, no safety net and no doors open and therefore no escape route. For good reasons, therefore, the record has stood for seven years. Keen's reports that his strategy was to build up slowly, with low speed exploratory runs. His tyres were preheated as a precaution. And, when it came to the record attempt, one run was all it took.
"I didn't really appreciate the scale of the record attempt until my first exploratory run. The surface is so unpredictable, so slick, that you have to have complete trust in your car. It truly was like ice – and you're accelerating flat out, facing a really hard wall at the end. Suddenly, even in a massive space like the one we had, it seems very small," said Leh Keen after his record attempt. "I could feel the Taycan's systems figuring it out, working so hard to keep me heading straight – it was such an impressive feat. To accelerate so hard on such an erratic surface was incredible. Not for a moment did I doubt I could do it."
"I did take a moment on the starting line – knowing I was going to have to go as fast as I could, and stop again, all before reaching the wall I was facing. It got my attention. I used the car's launch control and the Taycan just hooked up – the sensation of speed indoors, even in such a big space, is enormous – that wall rushed up fast. I was gentle on the brakes in the end – the Taycan's brakes were more than up to the job. Of course, I didn't look down at my speed so it came as a surprise and a relief that I'd beaten the record, and by such a margin. It was a rush! I'm thankful for Porsche for trusting my abilities and for their preparations and encouragement – 102 mph inside a building. What was I thinking?"