New Pirelli Cinturato AS SF 2 boasts 50% better mileage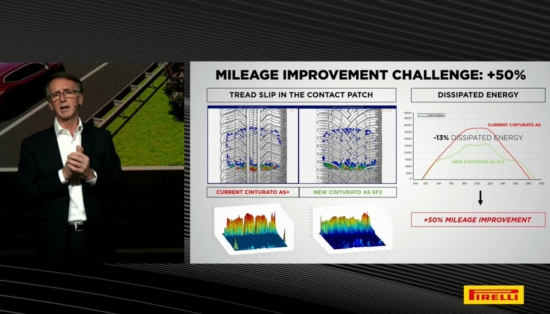 Pirelli has introduced new Cinturato All-Season Snow Flake 2 and Cinturato P7 tyre ranges in a virtual event broadcast from Milan. The virtual launch also previewed the forthcoming Cinturato Winter, which will be released in time for the next winter season. As far as performance improvements are concerned, the new Pirelli Cinturato All-Season Snow Flake 2 (or Cinturato AS SF2 for short) stole the show, boasting a whopping 50 per cent increase in mileage performance compared with its predecessor.
The new Cinturato AS F2 will be available in 65 15-20 inch sizes and seal inside, run-flat and Elect variations. 100 per cent of the range scores a B on the wet grip part of the European tyre label. And many fitments are said to achieve around B on fuel consumption as well. It also boasts 2 decibels better noise performance, something Pirelli says makes it "best in class".
At the same time aquaplaning performance is said to be 10 per cent better than the previous Cinturato All-Season, with the new tyre displacing 14.2 litres of water a second.
Pirelli reports that the enormous 50 per cent mileage improvement has been achieved via a 13 per cent reduction in dissipated energy as well as a new "adaptive tread compound", which features brand new polymers.
The new tyre will be available in 65 15- to 20-inch sizes as well as seal inside, run-flat and Elect versions.
And we're off at Pirelli's "Safety on the move" virtual event where the well-known Italian brand is launching news tyres including the @Pirelli Cinturato All-Season SF2 pic.twitter.com/3mPFx7WkKb

— Tyrepress.com (@Tyrepress) February 2, 2021
Look out for complete coverage of the launch in the March edition of Tyres & Accessories.