MegaRide introduces RIDEsuite tyre simulation platform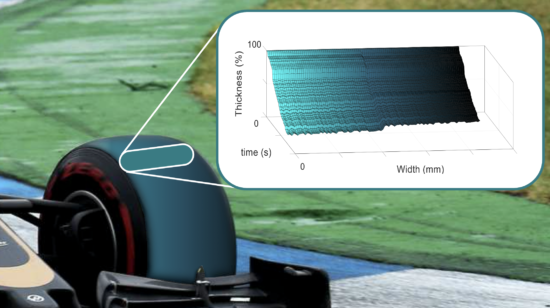 Billed as "the first complete simulation platform that cuts time and costs in the development and testing phases of both tyres and vehicles", MegaRide has launched the RIDEsuite tyre simulation platform road and motorsport applications. Boasting performance enhancements of up to 30 per cent, RIDEsuite is described as a modular and multi-physical platform consisting of four applications.
According to the company behind the system, the modelling is done by constantly monitoring tyre temperature, wear, footprint, grip and road surface conditions, considering these factors both in isolation and all together.
The platform integrates with real-time driver-in-the-loop simulators, providing accurate theoretical hypotheses that are applied to the modelled system in order to reproduce conditions representative of those in the real world. In addition, it provides an analysis tool to verify all stages of development, considering each of the essential variables in the interaction between tyre, vehicle and road surface. In particular, RIDEsuite has been designed to offer car manufacturers and tyre manufacturers a common platform for the design of original equipment tyres.
RIDEsuite is composed of the following physical models developed by Megaride, which are also available separately: thermoRIDE – a physical thermal model, which predicts in real time the temperature of the tyres; weaRIDE – an energy-based wear model, developed to detect and predict the degradation of tread polymers; threedeeRIDE, which reproduces all the dynamics that affect the tyre's contact patch and simulates driving situations caused by kerbs, bumps and road roughness; and the adheRIDE advanced interaction model that collects and reproduces the information of the other physical models, also taking into account tread wear, road roughness, viscoelasticity of the compound, grip, temperature and inflation pressure.
MegaRide is an official academic spin-off start-up company linked to the Vehicle Dynamics research group of University Federico II. The Vehicle Dynamics research group's expertise is oriented to the development of models and procedures for vehicle manufacturers, racing teams and road traffic management companies seeking solutions in the fields of real-time simulations, road safety algorithms and V2V & V2I connections in smart mobility scenarios.
MegaRide was founded by Flavio Farroni, Francesco Timpone and Aleksandr Sakhnevych thanks to the experience gained by following scientific research programs on vehicle dynamics carried out in collaboration with Ferrari, Ducati, and numerous racing teams. Currently, MegaRide is engaged in collaborations with the most prestigious car and motorcycle brands both in the product and in Motorsport fields.
As far as road vehicles and tyres are concerned, MegaRide is involved in several projects with some of the most prestigious manufacturers in the world. The competitions in which the company is active include Formula 1, Moto GP, Formula E and various GT championships.
"The real novelty and uniqueness of RIDEsuite is that it offers the possibility to simulate and measure all the factors that affect a tyre, when it comes to its interaction with the vehicle and the road surface," Flavio Farroni, CEO and cofounder of MegaRide explained, adding: "A package like RIDEsuite, designed both to be integrated with simulators and to be an analysis tool, allows manufacturers to shorten development and testing times, reduce costs and achieve significant improvements in terms of performance."