Goodyear Official Tire Partner of Nürburgring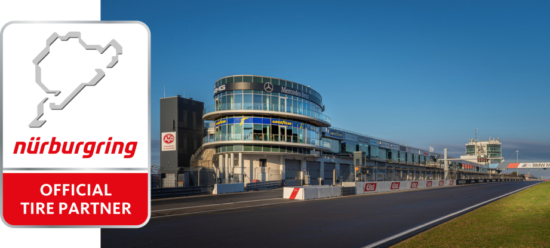 Goodyear is the new 'Official Tire Partner' of the Nürburgring circuit in Germany. It gained this status upon expanding its existing partnership with the Nürburgring Driving Academy, the ring°kartbahn and Offroadpark to cover the entire Nürburgring organisation.
As official partner, Goodyear will extend its tyre support to the entire Nürburgring fleet and equip all company cars and service vehicles with its summer and winter tyres. At the same time, Goodyear is looking to increase its brand presence at this high-profile race circuit.
"Goodyear is the paragon of a genuine partnership," states Michael Dürbaum, head of sales and business development at the Nürburgring. "Particularly in times such as these it is important to be able to rely on each other. We are therefore pleased that our official tyre partner is stepping up its commitment."
"We're very pleased to be able to further intensify our long-standing, successful collaboration with the Nürburgring," adds Dr André Weisz, managing director of Goodyear's consumer business in Germany. "We are convinced that the status of 'Official Tire Partner' will further increase our reputation in Germany as a leading tyre manufacturer, especially in the ultra-ultra-high-performance (UUHP) segment. The Goodyear brand's increased visibility at the renowned race track also underscores the long motorsport legacy of the Goodyear brand and its return to German racing."
Decade-old relationship
Nürburgring and Goodyear Dunlop extended their decade-old relationship for a further three years last August. The agreement has evolved to accommodate Goodyear's return to German motorsport as well as a rebranding of the VIP lounge at the finish line.
Its repute as one of the world's best-known race circuits makes the Nürburgring a tasty location for brands wishing to elevate their profile with sporting-oriented customers. In January, Falken announced it has signed up as Nürburgring Endurance Series (NLS) sponsor for the 2021 season.