Bridgestone – 40% fewer plants by end of 2023?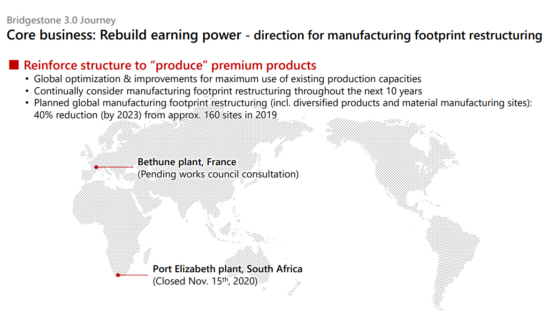 Bridgestone Corporation has shared details of its Mid-Term Business Plan for the three-year period from 2021 to 2023, and this plan entails significant changes for the company's manufacturing footprint. In a presentation given by chief executive officer Shu Ishibashi, Bridgestone outlines the direction this restructuring will take.
The company reports that as of 2019, it operated "approx. 160" tyre, diversified products and raw materials sites around the world. It states that under its "planned global manufacturing footprint restructuring" measures, this number will reduce 40 per cent by 2023. If we take this figure literally, then it would appear that Bridgestone Corporation intends to operate fewer than 100 facilities around the world in three years' time. Dozen of factory closures or divestments would thus be just around the corner. Within the past year Bridgestone has already announced plans to close its Béthune tyre plant in France and the Port Elizabeth facility in South Africa.
Furthermore, Bridgestone states that it will "continually consider manufacturing footprint restructuring" throughout the next ten years. Another measure it is looking at is "global optimisation and improvements" to achieve "maximum use of existing production capacities."
Read the Mid Term Business Plan (2021-2023) here