Auto Bild summer tyre test: Hankook impresses in preliminary round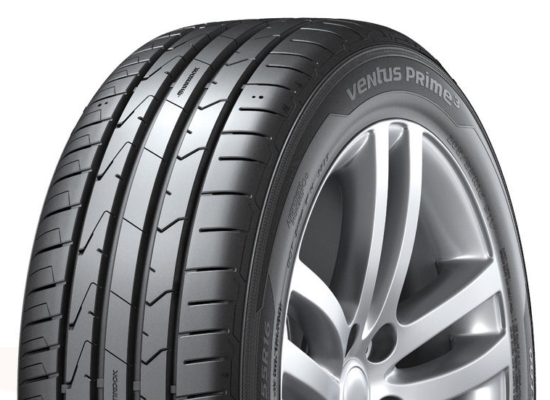 We'll have to wait another fortnight to learn the winner of this year's Auto Bild summer tyre test, but the motoring magazine has let the names of the finalists out of the bag. Of the more than 50 tyre brands that Auto Bild looked at – this year in size 205/55 R16 91V – just 20 remain for further, more intensive testing following the qualifying round. Hankook's candidate tops the shortlist after achieving the best stopping distances in both the wet and dry braking tests.
The tyre size 2055/55 R16 is one that fits some of the best-selling cars in the UK and Europe, such as the VW Golf, Seat Leon, Audi A3, Skoda Octavia, Peugeot 308, BMW 1 Series and Vauxhall Astra. The Auto Bild team anonymously purchased 53 brands of tyre for the test. The publication's testers fitted these to a Golf and measured how long it took the car to reach a standstill from 100km/h in dry conditions and from 80km/h in the wet.
"As expected, all premium manufacturers are at the forefront of the safety check," commented Auto Bild testers Dierk Möller and Henning Klipp. "But leading the braking with the Ventus Prime3 was emerging tyre brand Hankook."
Bad luck for some – poor performance from others
It was a matter of bad luck for some tyres. Auto Bild shares that the Apollo Alnac 4G "just missed the qualification limit" by 20cm, while Vredestein introduced its new Ultrac too late for it to even take part in the test. Testers Möller and Klipp also point out that the second-placed Pirelli rubber is a new generation of tyre that can only be distinguished by the presence of a couple of extra characters at the end of its name – P7 C2.
In addition to determining the finalists for the summer 2021 test, the initial braking round also revealed weaknesses in some candidates.
The first 19 tyres to miss a place in the final are: Apollo Alnac 4G, Sava Intensa, Radar RPX-800, Goodride Z-107 ZuperEco, Avon ZV7, Cooper Zeon CS8, Event Tyre Futurum HP, Zeetex ZT1000, Barum Bravuris 5HM, General Altimax One S, Hifly HF 201, Imperial Ecodriver 5, Wanli SA302 Sport Macro, Leao Nova Force HP, Petlas Imperium PT515, Viking ProTech NewGen, GT Radial Champiro FE1, Sailun Atrezzo Elite and Nankang Eco-2+ Green Sport.
Auto Bild reserved its harshest words for the manufacturers of tyres finishing at the very back of the field: "Of the 14 tyres listed at the end of the table, it's better for your own safety to keep your hands off." These are: Austone SP-6 Athena, Fortune FSR 602, Firemax FM601, Alliance 030EX, Seiberling Touring 2, A-plus A606, Riken Road Performance, Powertrac City Tour, Atlas Green HP, Tomket Sport, Antares Ingens A1, Achilles ATR-Sport 2, Maxtrek Maximus M1 and Double Coin DC99.