VfB Stuttgart also sponsored by Tomket Tires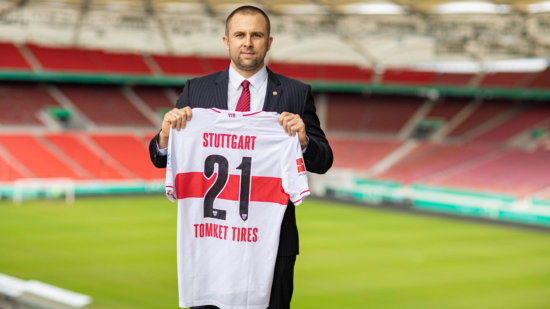 Tomket Tires announced it became an official partner to VfB Stuttgart on 7 January 2021. The latest announcement follows a series of high-profile football sponsorship deals. Tomket is already associated with Rangers, Fiorentina, several Spanish La Liga clubs and four English Premier League teams in varying levels of partnership. Tomket has also invested in motorsport sponsorship.
As VfB Stuttgart's new business partner, Tomket will have a presence on LED advertising boards as part of the company's first sponsorship deal in the Bundesliga. The Tomket logo was seen at the Mercedes-Benz Arena for the first time in the home match against RB Leipzig.
"We offer a warm welcome to Tomket at VfB," said Jochen Röttgermann, director of sales and marketing. "Tomket recognised the potential that an LED advertising board at VfB Stuttgart offers for their own brand awareness. We're looking forward to a good working relationship with our new business partner."
Radek Grill, owner of Tomket Tires added: "We are very proud to be a sponsor in the Bundesliga for the first time with VfB Stuttgart. I personally follow German football in general and VfB Stuttgart's progress over the years with great interest, and I firmly believe this partnership is the right step for VfB and Tomket. I'm looking forward to supporting this club every week and to seeing our colours together at the Mercedes-Benz Arena."
Tomket agreed  a sleeve sponsorship deal with Glasgow Rangers in August and another deal with well-known Italian team AFC Fiorenetina before that in 2019.