Nokian Tyres introduces flexible shift model at Finnish car tyre plant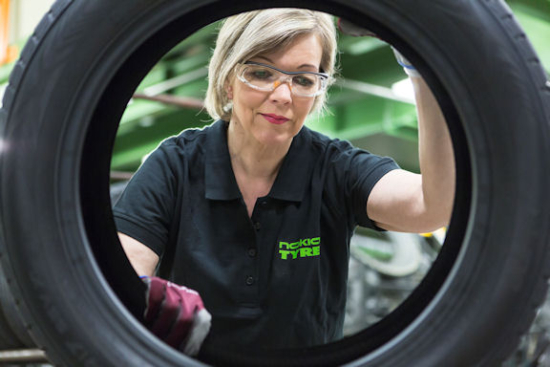 A new contract covering the workforce at the Nokian Tyres plant in Finland will allow for more flexible working hours in 2021. Nokian Tyres says the contract covers approximately 400 people engaged in various functions related to car tyre production and "enters into effect immediately." The contract remains in force until the end of the year.
The tyre maker explains that the aim of the contract is to "ensure the continuity of employment relationships" – in other words, to avoid layoffs at the Nokia site. Nokian tyres will also use this new arrangement to focus its production more towards seasonal demand, adjusting production in quieter periods without the need for temporary layoffs.
"By operating our production efficiently and according to demand, we can quickly respond to the needs of our customers and any changes thereto as well as avoid oversized inventory levels and the resulting additional costs. This allows us to improve our position in the highly-competitive tyre industry. At the same time, we can offer our staff better visibility into the future," says Pasi Antinmaa, production director at the Nokia factory.
"I am delighted that the cooperation between the personnel and employer works so well and that we can negotiate and agree on matters together. I want to thank the representatives of the different personnel groups and the employer side for this contract, which is a symbol of our work towards a common goal."
Retaining expertise & skill
Nokian Tyres drew up the contract on the basis of a proposal created by the personnel groups in passenger car tyre production. It concerns the workers and clerical employees in passenger car tyre production, maintenance, and quality control at the passenger car tyre production in Nokia.
"The contract ensures that we can retain expertise and skill at the Nokia factory even during periods of lower demand," says chief shop steward Petri Sorvali.
The contract is built around a shift work model that contains 44-hour weeks, eight weeks of time off during the year, and most weekends free. The contract ensures that the employees receive evenly distributed salary payments and four weeks of continuous summer vacation, among other things. Nokian Tyres stresses that the contract also ensures job security: No temporary or permanent layoffs due to financial or production-related reasons will take place during the contract period.